University of Exeter: What it's really like
Discover the University of Exeter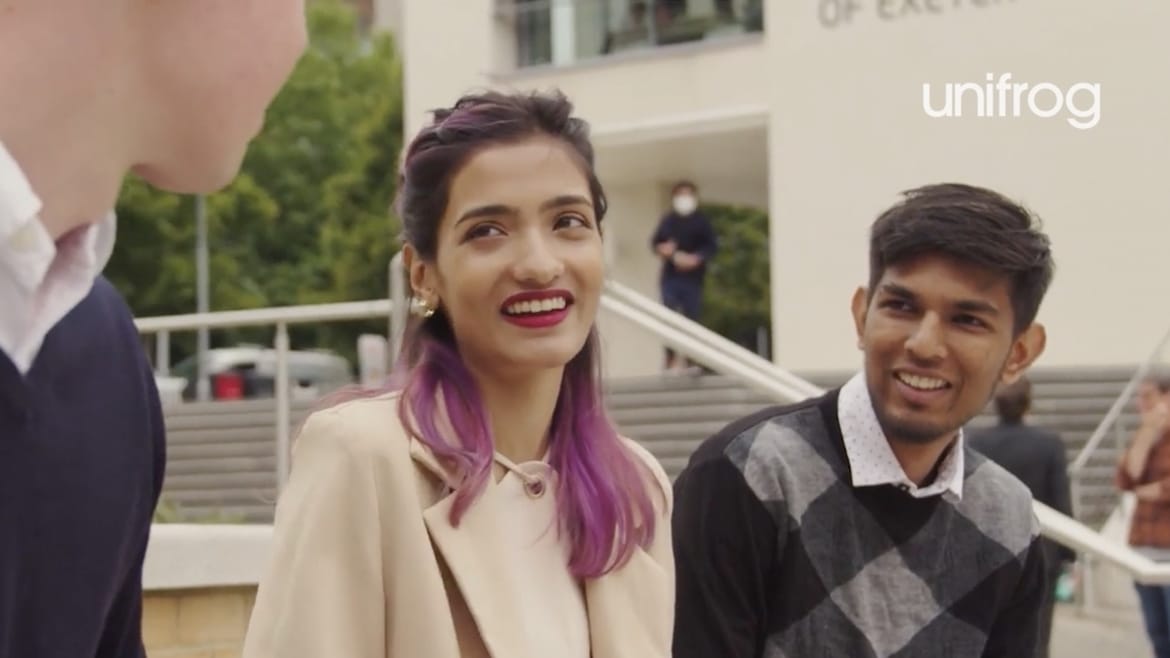 This guide is taken from the Know How Library, a tool on the Unifrog platform. Not sure whether to take the ACT or the SAT? Or how to give the perfect Oxbridge practice interview? The Know How Library is an easily searchable library of 100s of expert guides for both students and teachers, covering every aspect of the progression process. It is included as standard for Unifrog partner schools.
Want to study at a world-renowned university where you'll be surrounded by exciting research? Exeter could be the place for you!
The University of Exeter at a glance:
| | |
| --- | --- |
| Founded | 1851 |
| Locations | Exeter and Cornwall, England, UK |
| Undergraduate course length | Three years |
| Courses | Over 40 departments, from Archaeology to Drama; and Environmental Science to Mining Engineering. |
| Students | 30,000 |
| Great for | Students who want to learn from current, relevant research and teachers who are leaders in their field. |
| Not for | Students who aren't up for group projects and prefer to work alone. |
Ashley, who's School and College Engagement Officer at the University of Exeter, shares some insights into life on campus.
What is the University of Exeter?
The University of Exeter is a Russell Group university based across two counties.
The Exeter campuses include Streatham, our large campus, where most of our courses are taught; and St Luke's, where you'll find the schools of medicine and education.
The Cornwall campuses are based in Truro and Penryn, the latter of which is shared with Falmouth University, making for an eclectic environment.
There are just over 30,000 students here, and about 20% of those are international students.
Why apply to Exeter?
One reason to apply to Exeter is that we pride ourselves on the quality of our teaching. We are currently ranked as one of the top 20 universities in the UK, and in the top 150 universities in the world.
But it's also the amount of research we conduct here that stands out. As part of the Russell Group, a lot of our modules are based on recent research, so your studies will be as relevant to today's world as possible. You'll be taught by academics who are leaders in their field, and their research is something you can get inspired by.
There's also a vibrant international community on campus. About 20% of our students are international, so you can find people from all over the world here. International students might also be keen to know that they can be in London in around 2.5 hours, and the university is close to both Exeter and Bristol airports.
Who isn't the right fit for Exeter?
The sort of student who might not be right for Exeter, is a student who does not want to engage. A lot of our courses are designed with plenty of group work involved. We encourage collaborative work so we can learn from different cultures and backgrounds, solving problems from multiple perspectives. So if you're the sort of student who would prefer to work alone, this might not be the right fit for you.
Any application tips?
When it comes to applying, Exeter's admissions team will look at both your predicted grades and your achieved grades, in addition to your Personal Statement.
Your Statement should be a true reflection of who you are as a person. If you have had any mitigating circumstances during the last two years, we encourage you to include this information on a mitigating circumstances form, rather than in your Statement – so you don't waste any space!
If you're studying the EPQ, and you get an A or above, you'll be given a reduced grade offer if you don't meet the conditions of your offer by one grade. Look out for our contextual offers as well; you'll find the details right next to the standard offer details for each degree listed on our website.
What's the location like?
The University of Exeter is a campus university, which means that everything you need can be found on the university site.
The Streatham campus is at the highest point in Exeter, creating incredible views across the county, as well as being closely located to St David's train station. This is on the main line towards the north of the UK and London, so it's easy to get around the country from here.
The St Luke's site is close to the hospital, which is useful for the medicine students who are based there. Both campuses are about a 15-minute walk from the city centre.
Penryn is close to Falmouth, a pleasant location beside the sea, where you can enjoy lots of water sports. There's a big surfing community you can get involved with there.
What facilities does the University of Exeter have to offer?
We see sports as a big part of wellbeing at Exeter, so you'll find sports facilities at all of our campuses. The Russell Seal Fitness Centre is home to our main sports park, where you'll find international quality hockey pitches, an indoor tennis centre, an indoor cricket centre, and an outdoor swimming pool (there's an indoor one at our St Luke's campus too).
Our teaching facilities include the Living Systems Institute, which is a world-leading centre for research. We offer a degree in Renewable Energy, so students on our Penryn campus can access the excellent renewable energy engineering facility there. We also have a clinical resource centre for our medical students, so they can practise being on a hospital ward before experiencing it for real.
What is the accommodation like?
If you select Exeter as your 'firm' before the deadline, we guarantee to offer you university-managed accommodation in your first year.
There are 6,000 rooms based at Streatham campus, as well as more halls at our Cornwall campus. Work has recently finished on our 1,000-room halls called East Park, where you'll find super modern rooms, some of which have shared bathrooms, and others are ensuite.
All of our accommodation offers self-catered or catered options, and you can choose from modern or traditional rooms.
How does the university meet the needs of students with different accessibility requirements?
At the University of Exeter, we aim to provide a fully inclusive education. By that we mean, we want you to be able to fully participate in any aspect of university life while you study here.
Our university wellbeing team is always on-hand to support you, and is constantly looking for suggestions or ways to make the university's services more accessible.

We encourage you to let us know of any disabilities when you apply. Don't worry – this is not seen by the academic team, it's just so the admissions team can get the suitable support in place for you well in advance of your start date.
Want to explore more UK universities? Remember, Unifrog's Shortlisting tool can help you put together a list of great potential courses.
Unifrog Insights monthly email
Progression-related teaching materials, and insight from the Unifrog platform, emailed to you once a month.