Helping students


find their future
We bring all the available information into one comprehensive, user-friendly platform that helps students make the best choices, and submit the strongest applications.
We empower teachers and counselors to manage progression effectively.
We partner with universities and employers to further support students to be successful.
What is Unifrog?
The
universal


destinations platform
Our values
These are the principles
we work by
1
We put having a positive social impact before anything else.
2
We will never stop trying to improve our service or our platform.
3
We hugely value our customers, and respond to their input.
How we work
The Unifrog Way of Working
Our mission is to level the playing field when it comes to young people finding the best opportunities for them; we put having a positive social impact before anything else.
Within the company we try to foster a culture of innovation, and a happy working environment, both because this is the right thing to do, and because we think this results in the most effective team. To this end we believe in open communication, celebrating successes, supporting each other, not being afraid to be wrong or to fail, and promoting good ideas wherever they come from. We also believe in the power of diversity in all its forms, including in terms of culture, religion, age, socio-economic background, race, gender, sexual orientation, personality, life experiences and disability.
We are dedicated to continually improving our platform and how we deliver our services. We hugely value our customers, and respond to their input. When you interact with us, you will find us to be prompt, polite, straightforward and positive. Anything less would not be the Unifrog way of working!
WHERE WE'VE COME FROM
And where we're going
It started with some smart students
When he was an English teacher at Highbury Grove School in London, Alex was inspired by an exciting group of students to start The Access Project, a charity that helps disadvantaged kids get into prestigious universities.
The Access Project's main focus was organising free one-to-one tuition, but it soon became clear that the students also struggled with making the best choices on which universities to apply to.
Talking it over while on their honeymoon, Alex and Coralie realised that there was already a wealth of data available to students to make these choices, but nowhere that actually helped them navigate all the information. This was the beginning of Unifrog! After getting back from honeymoon, Alex left The Access Project (which is still going strong) to focus full time on Unifrog with Coralie.
Common mistakes
The first challenge Alex and Coralie took on was how to help students make smart choices when it comes to picking the 5 UK universities to put on their UCAS forms.
There were a few issues in particular they wanted Unifrog to support students with - like encouraging students to choose courses offering a range of entry requirements, think more widely about what subjects might be appropriate for them, and to take into account data that was newly available at the time, like results from the UK's National Student Survey.
From the very start, Alex and Coralie realised that the best vehicle through which to engage students is their school - this way you can partner with teachers and counselors to access even the hardest to reach students. Also, rather than allowing algorithms or advertising to have any influence, they always knew they wanted to present information clearly and impartially, and put the power for decision making in the hands of students and teachers.
Building a team isn't easy
The challenge that Alex and Coralie found hardest was building the right team. However, one constant strength is that from the beginning Unifrog's programming has been led by Stu, who has been a crucial and inspiring creative force behind the development of the platform.
These days, the Unifrog team is a wonderful thing, where everyone shares deep commitment to our mission, belief in innovation, and integrity. We are very picky hirers because we want all new people to match the standards of the existing team!
Staying close to teachers and students
Unifrog came about through an effort to fix a problem that Alex and Coralie perceived first hand, and we have always been clear that as the platform develops we want to solve real problems experienced by students and teachers.
How do we ensure this is the case? By staying very close to our users. We encourage students and teachers to give us feedback, and when we get it, we act on it. Many of our ideas for both product development and service delivery have come from our users.
We've taken this to the ultimate degree by hiring into the Unifrog team both teachers and students who were Unifrog users! We think of ourselves as an education company that works with technology, not a technology company that works in education.
One-stop-shop
The platform has now grown to encompass apprenticeships and Further Education colleges in the UK, as well as US and Canadian universities, and degrees taught in English in Europe, Asia, and Australasia.
In parallel, we have expanded our functionality to help both students and their counselors with the whole application process - from deciding on a subject area and writing application essays or teacher recommendations, to building an application and sending it.
Throughout our growth, our aim has stayed the same: to bring all the available information into a single, impartial, user-friendly platform that helps students to make the best choices, and submit the strongest applications.
Our goal is to create a one-stop-shop for finding and applying for any opportunity taught in English, anywhere in the world. Join us!
Partnering with universities and employers
After seven years of working just with high schools, we started to partner with universities and employers to make the best use of their insight and expertise, and to help directly connect students with the opportunities they offer.
A key element of these partnerships are the events we collaborate on. We started running interactive, online events during the covid lockdowns, ranging from international university fairs to skills and employability workshops.
We've now greatly expanded the work we do with our university and employer partners - this ranges from co-creating content like online univesity taster courses and virtual work experience, to live dashboards that give universities and employers insight into what students care about.Want to learn more? See our universities page here, and our employers page here.
WANT THE FULL STORY?
Where Unifrog came from and where it's going.
We're building the universal destinations platform, together.
We want to level the playing field when it comes to students finding and applying successfully for the best opportunities for them. We're building a platform that can enable this to happen by working closely with our community of students and teachers. Join us!
FAQs
Frequently asked questions
How does my school or college join?
Contact us and we'll demonstrate the platform to you in person or on a video call - there's absolutely no obligation or charge for this. If you decide to come on board we will help you plan how you will embed the platform throughout the academic year, and across multiple year groups. We will also train you and your colleagues, and sort out the (straightforward) logistics of getting you up and running. We are fully committed to helping you make the most out of Unifrog.
Where does Unifrog's data come from?
Lots of places. This includes UCAS, the National Apprenticeships Service, The National Careers Service, Unistats, HESA, The Guardian, HEPI, the Cabinet Office, the Office for National Statistics, the Commission for Employment and Skills, the Department for Business Innovation and Skills, Ofsted, every UK university, UK university alumni, FutureLearn, Coursera, Udacity, every college at Oxford and Cambridge, and QS. We keep all our data bang up to date - for example, apprenticeships vacancies are updated every night.
Lost data.
We keep complete version histories of students' essays and teachers' references and letters of recommendation. If you delete students by accident we can get them back again in full as long as you alert us within a month. If you delete students by accident and then alert us after a month, the data we can restore about them might not be complete, and we will charge you for the cost of the data recovery.
Are you self-certified against the UK DfE's standards as a Cloud Software Service for Schools?
Yes. Download our self-certification statements here.
Website terms.
You can read our website terms here.
Data Protection Impact Assessment (DPIA).
We have prepared a data protection impact assessment (DPIA) that is an adaptation of the template produced by the Information Commissioner's Office (ICO). Read it here.
Privacy policy.
We are committed to processing, storing and using personal data fairly and lawfully in accordance with the General Data Protection Regulation (GDPR) 2018. Unifrog is registered with the Information Commissioner. Read our Privacy Policy here.
Student Privacy Notice.
In line with the Children's Code, when they access the platform we show students a version of our Privacy Policy designed to make it easier for them to understand how we process their data. Read it here.
General Data Protection Regulation (GDPR) 2018
We take great care for our work to be fully compliant with the GDPR. Here are our answers to some common GDPR related questions
Service terms.
You can read our Service terms here.
Data Sharing Agreement and Data Transfer Impact Assessment.
Only if a school is not in the EEA, the UK, or in Guernsey, Israel, Jersey or New Zealand: in addition to our normal terms we have in place this Data Sharing Agreement (DSA), which includes a Data Transfer Impact Assessment (DTIA).
How secure is my customer information?
We use the Salesforce CRM platform to record customer information, like your subscription term, school type and contact details. Read about Salesforce's data security policy here.
How secure is the platform?
Very. Below is more information.
Security
We take data security very seriously
Only UK and EU data centres
Student data and backups are only stored and processed in UK and Ireland data centres. All data is stored in accordance with the General Data Protection Regulation (GDPR) 2018. Our ICO registration reference is Z357522X, and we are self-certified against the UK DfE's standards as a Cloud Software Service for Schools. For users applying to universities in the USA, Canada and Europe via our partners Parchment and the Common App, we send data to the country of the institution a student is applying to via the USA.
Multiple firewalls
Servers sit behind multiple firewalls within a VPC which is only accessible via a VPN; only ports 80 and 443 are publicly accessible. The database server is not accessible outside the VPC.
Encryption
Student data and backups are encrypted at rest and in transit using 256-bit SSL/TLS.1.2 encryption. You can check our supported protocols and ciphers here. Sensitive data such as passwords are hashed and salted.
Layered access security
Administrators have limited access to student data, and only when strictly necessary. We use user-type appropriate password rules regarding password length, complexity, age, number of allowed failed logins per day, re-use of old passwords, and 2-step authentication.
Secure servers
Our servers and technology infrastructures are provided by Amazon Web Services. Only our lead developers and our Managing Director have access to this environment. Servers are automatically updated as soon as security patches are released.
Database backups
Backups are made daily, and retained in reducing granularity for a minimum of 3 months. Point-in-time recovery is also available up to 5 minutes behind current time. Backups are held in multiple geographical locations.
File backups
Files uploaded to our Locker tool are not deleted until 180 days after a student has been removed from the Unifrog platform. Our storage gives files 99.999999999% durability, and we store in multiple regions.
Server backups
Snapshots are taken at 1 hour intervals, are retained in reducing granularity for a minimum of 3 months, and are held in multiple geographical locations.
Vulnerability assessments
Vulnerability assessments are performed regularly, both manually and automatically by our developers. Realtime protection is provided by Amazon Web Services and the platform has been externally Penetration Tested.
Lost data
We keep complete version histories of our application creation tools like our Common App Essay, Personal Statement and Teacher Reference tools. If users delete student accounts by accident, we can bring the student accounts back again as long as we are alerted within one month.
CSP, Clickjacking and XSS
The platform uses a strong Content Security Policy (CSP) to help prevent Cross-Site Scripting (XSS), clickjacking and other attacks resulting from code injection. We recommend using a modern, up to date browser that supports the latest CSP specifications.
Cookies
We use 'strictly necessary' cookies that contain no tracking or personally identifiable information to enable the even load balancing of our servers. We only use cookies to enable users to remain logged into their account. When users sign in for the first time they agree to our terms, which explains in detail what cookies we use.
Who's behind the frog?
Here's our senior team
Daniel Keller, CEO
Daniel joined Unifrog in 2015 and has played a pivotal role in our growth and success. He firmly believes that Unifrog can revolutionise careers and university guidance around the world and is on a mission to make that a reality. Previously he worked in the business development team at the Open University in the UK, and coached skiing and climbing in Switzerland.

Daniel's love of outdoor sports has taken him everywhere from Canada to China, and has included first ascents of 5,000m peaks in Kyrgyzstan. His next major objective is in the Fitz Roy massif in Patagonia.
Stuart Valentine, Technical Development Lead
Stuart is Managing Director of SAV, the software company that developed the Unifrog platform. In 2012 Stuart and the team at SAV helped Alex and Coralie turn their initial ideas for Unifrog into the first working version of the platform. Since then SAV and Unifrog have continued to work together to develop the Unifrog platform to its current scale.
When not leading the technical development team at SAV, Stuart is a keen swimmer. He lives in London with his husband and young son.
Stuart studied PPE at Oxford University and founded SAV in 2002.
Coralie Colmez, Co-Founder
Coralie is the author of YA novel with maths The Irrational Diary of Clara Valentine, and the co-author (with her mother, mathematician Leila Schneps) of popular maths book Math on Trial.
Coralie began her career as a research assistant on Carol Vorderman's task force, commissioned by the UK government to study the state of mathematics education in the United Kingdom.
Coralie read mathematics at Cambridge University under a Cambridge European Trust scholarship, graduating with a first-class degree and winning the Ryan Prize in Higher Mathematics.
Alex Kelly, Co-Founder
Previously Alex founded and led the charity The Access Project, which matches high-flying graduates with students from disadvantaged areas for weekly academic tutorials. These sessions help the students achieve better grades and progress to top universities. Each week the charity delivers just under 1,000 hours of free tutorials.
Alex worked as a researcher for the UK's then shadow Secretary of State for Education, focusing on initial teacher training, and what international school systems can teach the UK.
Alex's first job was teaching English at Highbury Grove School in London. During his five years in the classroom, he developed what seems to have become a lifelong love for working in the sector.
Alex studied English at Oxford University.
And here's our advisory board
David Hawkins
David Hawkins is an experienced college and university guidance counselor with expertise in a wide range of international university admissions systems. A graduate of the University of Oxford and a former GCSE, iGCSE, A Level and IB History teacher, David has served as a college counselor in the UK and internationally supporting students in university applications to the United States, UK, Canada and Europe, among many others. Now based in the southwest of England and working with Syzygy Global Education, David provides independent counseling services to students and families around the world, particularly those looking for support in applications to the UK (including Oxbridge and Medicine), the United States and multi-country applications.

Previously Head of College and Careers Counselling at the International School of Brussels and Head of Careers at Taunton School, David has served as a member of the Council of International School's Guidance Committee, and its Committee for Europe, the Middle East and Africa, as well as the Government Relations committee of the International Association for College Admissions Counseling.
Patience Fanella-Koch
With twenty years of experience in college counselling and university admissions, Patience Fanella-Koch serves as the Director of College and Career Counselling at Aiglon College, an international boarding school in Switzerland offering the International Baccalaureate diploma. Previously, she worked in two secondary schools and a private liberal arts university in the US.

Patience is dedicated to students' personal and academic development, and their pursuit of higher education. She has developed comprehensive counselling programmes in multiple high schools, and started the college counselling track for Horizons GFA, a volunteer program assisting underserved students in Bridgeport, Connecticut. Within the profession, she serves on the executive board of the International Association for College Admission Counseling, advocating for professionals, students and families around the world as they access various opportunities.

Patience double-majored in international relations and French studies at Wheaton College in Massachusetts, USA, including a study abroad experience through Boston University in Paris, France.
Buket Ayaz
Buket is Head of Careers and University Counseling at Deira International School in Dubai. She has more than 10 years' experience as a higher education advisor.
In 2013 participating in the Independent Educational Consultant Association's Summer Institute fired her passion for raising awareness about education abroad. After the institute, while working as an IEC to support students' university applications worldwide, she started developing college readiness programs at high schools across Turkey, including developing partnerships with international universities.
Buket has continued college counseling since moving to Dubai. She enjoys every aspect of the job, from the admin to the sleepless nights during applications season. She is particularly interested in careers counselling curriculum standardization, including grade-specific college readiness programs, which has seen her delivering college counselor training workshops in the UAE.
A former Fulbright Scholar, Buket is an AICEP "Certified Educational Planner", and has a College Access Counselling Program certificate from Rice University. She is studying at postgrad level at Edinburgh Napier University to become a careers practitioner.
Partner organisations
Here are some of the professional organisations in our sector with whom we have partnered.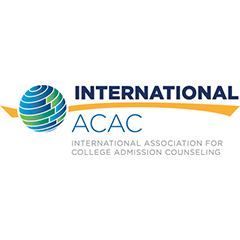 Help us build something
fantastic
We are building the one-stop-shop for destinations, together. Request a demo and we'll get back to you right away to arrange a time.