How to contact us
We'd love to hear
from you.
UK address
Brickfields, Unit 215, 37 Cremer Street, E2 8HD
HK address
33-35 Hillier St, Sheung Wan, Hong Kong
Already know who to talk to?
Use the email addresses below to contact them directly.
SO WHAT ARE WE REALLY LIKE?
Here's a closer look at some Unifroggers
​
Nicolas Weir, International and HE Partnerships Director
Describe your role
As Head of International Sales and Delivery, I'm responsible for looking after our international area managers. I also devise our strategy for how we can grow the international arm of the business, and how we can best look after our current network of partner schools to make sure they use our platform effectively.
On top of this, I'm the Area Manager for Switzerland, so am personally responsible for growing our number of partner schools there, and maintaining great relationships with the schools we work with there already!
What's at the top of your bucket list?
I love snorkelling, snowboarding, fishing and climbing - any 'outdoor' sport really! Last summer I went to the Alps and climbed the Zinalrothorn, from where you get to see lots of other peaks in the Alps. One of them was Dent Blanche, or 'White Tooth', which is just over 4,000m high - it'd be great to climb that next summer.
What motivates you at Unifrog?

I'd say there are three main things: firstly, I love building great relationships with counselors and teachers at schools around the world; secondly, it's great to provide students with access to a fabulous tool that I would have found immensely helpful myself when I was a student; finally, I love working with a brilliant team of people and doing my bit to help the company grow!
What's your favourite memory of being on the road for Unifrog?
Greg and I recently went to a conference in Bangkok and on our way to the venue we were fortunate enough to be able to take a Hello Kitty tuk tuk through the streets. We saw some great views of the city and I won't forget that journey easily!
Samar Shah, Head of UK Partner Success
Describe your role
I'm the first point of contact at Unifrog for the majority of schools so, if they have problem or want something updated or changed, they come to me and I help get it sorted.
If you could be any superhero, who would you be?
Any superhero who can fly and get to places really quickly! I'd love to visit sunny destinations whenever I feel like it...
What does an average day as a customer success lead look like?
On a typical day I'll come into the office, respond to emails, and make sure any other project work is progressing smoothly. I also answer the phones and help the rest of the team out whenever I can.
What advice would you give to your schoolgirl self?
Not to stress! I'd tell my schoolgirl self not to worry about the small stuff as it won't actually matter that much in five years' time - ignore the drama and hit the books instead.
What do you like the most about your role?
I love that my role can be really varied at times. Although the majority of day-to-day tasks are similar, the project work is very diverse. Also, I get to speak to a lot of teachers on a daily basis and find out how Unifrog is benefiting them, which makes me feel good!
​
Aishah Nahar, Content Creator
What motivates you to work at Unifrog?
I am motivated by empowering students to make well-informed decisions about their future, regardless of their background. I think there's a lot to be said for the power of young minds. Working at Unifrog gives me the opportunity to support the growth of independence and resilience of young people across the world. As a bonus, the team and company culture also drives me to be the best Unifrogger I can be. It's a truly wonderful and inspiring environment to work and grow in!
What's your favourite Unifrog tool?
My favourite has to be the Know-how library, of course! I have a child-like curiosity about things which I've never really outgrown. So while I am a Know-how library content creator, I often find myself lost in the wide array of existing guides. This same energy is what helps me get into research rabbit holes for any new content I create. The other great part about the Know-how library is that we listen to what students want and produce it. So if you have any suggestions, you can always get in touch with the Content team and we'll see what we can do!
If you could meet any historical figure, who would you choose and why?
Although she is very much alive, it would have to be the iconic Kimberlé Crenshaw. She's a prominent scholar of critical race theory and a civil rights activist. Crenshaw coined the term 'Intersectionality' in 1989 to refer to the specific challenges or discrimination people may experience as a result of their intersecting identity markers. She transformed my understanding of feminism in a way that influences everything I've done since. I would love to meet her for a game of crazy golf (and some light discussion on the evolution of third wave feminism and how online campaigns have become a vehicle for global change). I feel like she would be a great mentor and I could learn a lot from her about female leadership.
What advice would you give to your younger self?
Firstly, you don't have to have it all figured out. Secondly, surround yourself with people, places, and activities that help you be your best self. And finally, trust your gut instincts more. The older you get, the more you realise that the best thing about life is being in good company (including your own), making mistakes (and learning from them), and self-actualising (we love a growth mindset). So, Yung Aish, stop being a perfectionist, locate your chill, and be kind to yourself!
Alex Bailey, Head of Content and Marketing
How has your career background helped you in your role?
Having moved around a bit, I've been lucky enough to be part of tech startups around the world so I've seen how growing companies approach marketing and content from lots of different perspectives. My most relevant experience to this role (and what inspired me to apply for the position here!) was my five years at Makers Academy, the 12-week software development bootcamp for career-changers looking to get into tech. I really enjoyed the focus on meta learning and education philosophy and how the company shared Unifrog's mission to level the playing field when it comes to providing career progression. I'm also a writer and content creator at heart and revel in any opportunity to be creative with those I work with.

How do you keep in touch with the rest of the team when working remotely?

I keep in touch in any which way is most convenient for them! I prefer Zoom over Google, but am just as likely to call in the old-fashioned way. I'll use Slack for quick updates and emoji polls, but if there's much debate or confusion I find talking something through over the phone much easier. For conversations you need multiple pairs of eyes on, a group Slack channel is best.

If you could meet any historical figure, who would it be and why?
It would be Carl Jung – though I'm not sure what he would make of me! I would be extremely nervous to meet the founder of analytical psychology (!) but have always been very interested in ideas like the collective unconscious and his take on the human condition in general. Plus I'd love to quiz him about his less official artistic side, a collection of illustrations published posthumously in 'The Red Book'.

What would your superpower be?

I'd love to be able to fly – that's my OG answer. But also, I'd like to be able to breathe underwater – in all senses of the phrase.
1. Literally, because I'm a (fairly novice) surfer and it would be great to take bigger risks without worrying you're going to drown.
2. And metaphorically. Staying completely calm every time something terrifying or unexpected happens would be a pretty neat superpower to have.

​
Alex Kelly, Director and co-founder
What gets you out of bed in the morning to go to work?
I actually love work, so I always spring out of bed! I'm also addicted to coffee, so the thought of making my first cup is another big motivation.
What part of your job do you find most challenging?
When we first started Unifrog, Coralie and I did pretty much every task there was going, and there were some that I was terrible at (I'm thinking especially of the quarterly VAT return); my job has got a lot better since we've hired wonderful people who are good at the things I'm bad at.
My main responsibility now is product design. I find it so satisfying to go from an idea for a new tool or a way to improve an existing part of the platform, to designing something that I think people will find intuitive and useful. I work closely with Coralie, my co-founder, and Stu our lead programmer, who often knock my initial designs into shape with their more practical minds. I think the most challenging thing about my job now is that it's much quicker to come up with new product ideas than it is to deliver them, so I have to manage my own eagerness to add new things to the platform.
What's the one film you think everyone should see?
I think everyone should watch The Game Changers, a documentary that argues that we eat far too much meat. I'm not saying everything in it is superb science, but all the same, watching it changed my life for the better!
What's your favourite way to spend a day off?
My ideal day would start with having had eight hours of excellent sleep, then I'd do a mixture of hanging out with Coralie, making and drinking lots of coffee, doing some sport with friends, eating with friends, and maybe even a party with some dancing. It's hard to do two of these days in a row because the partying normally ruins the eight hours of sleep for the next day. If I can't have a day like this, just give me two hours of surfing in Mexico and I'll be very happy!
Alex Webb, Programme Manager
What's the most surprising thing you've learnt working at Unifrog?
When I was applying for my role at Unifrog, I noticed that the website said the team takes on feedback from teachers and students. But I've been so impressed by just how much of what we do is informed by the young people, teachers, and careers advisers we work with. That's something that's really stood out to me, as I think it's really important to focus on the voice of the people that you're trying to support.
What is your favourite Unifrog tool and why?
My favourite is the Competencies tool. Like a lot of the platform, that has blown my mind! I think it's so key for students to be able to look at all the experiences they have, see them as examples of skills development, and track them all in one place.
I never thought about school as skills development when I was there. So when I applied for things like part-time jobs or university, I had to really reflect on what I could offer. Having access to the Competencies tool would have been a big help.
What book do you always recommend to other people?
One of my favourite poem collections is 'tenderhead' by Jay Délise. Jay is an amazing poet – I saw them perform at the Manchester Literature Festival a few years ago.
Something I like about this collection is the way it explores relatable human emotions, and 'tenderhead' looks mainly at joy, anger, and love. The message that I took from it was that race, sexuality, and gender cannot be unlinked; that people experience these parts of their identity because of who they are, not irrespective of who they are. That really shouts out at you when you're reading it.
I like to read things that challenge the way I've done things in the past, and this very successfully did that. I'd recommend it to anyone who is a poetry fan, but also anyone who wants something that will make them think about how they could do stuff differently.
What advice would you give to your younger self?
I'd tell myself: chill out! I was so nervous as a child and teenager, always panicking about everything, but especially the future. When I was at school, there was a lot of pressure to figure out what I wanted to do. So when I work with young people now, I try to remind them that they don't need to have it all figured out. It's not the end of the world if you try one pathway, find it doesn't work, and want to try something else. And there are so many different ways to get into different fields; qualifications aren't everything.
​
Alyssa El-Shamma, International New Partnerships Lead
What made you want to work at Unifrog?

Before Unifrog I was a tutor, and my students came from many different schools around the area. I was surprised to notice a lot more excitement and optimism in the students whose schools used Unifrog. I would sometimes catch them chatting about their aspirations and laughing about their 'personality frogs'. So, I made the (brilliant) decision to join Unifrog so that I can spend my days reaching out to schools across the world, and growing the Unifrog community on a global scale!

How has your background in tutoring helped you in this role?

There are many ways my background in tutoring has helped me in this role. I think most importantly, it gave me perspective. I know how difficult it is to instil confidence in young minds, and I also know how overwhelming the world can seem after school. Unifrog helps both educators and students in countless ways, and this fuels my determination to find new partner schools around the world.

If you could only eat one meal for the rest of your life, what would it be?

Without a doubt, my meal of choice would have to be Pad Thai. I love that Thai dish so much that I ate it nearly every day for three months without getting tired of it. I have even forced myself to get used to spicy food just so I can handle the red chilli on top - sad I know, but it has to be authentic!

What's your karaoke song?

If anyone with super cool music taste is reading this, then my karaoke song is definitely 'House of the Rising Sun' or something like that (but truthfully, I'd never say no to ABBA or High School Musical).
Amy McCord, Graphic and Motion Designer
What motivates you to work at Unifrog?
If I'd had the tools available to me that Unifrog provides I think it would have made figuring out my life path much less stressful! I think it's so important that young people have the information on the platform available to them, and in a variety of accessible ways, so they feel empowered to make the choices that feel right to them. I'm motivated by the idea that what I'm creating not only makes things more accessible, but hopefully makes people smile as well!
How has your background in TEFL helped you in this role?
Working with young people from lots of different cultures and walks of life has been a wonderful and an eye-opening process, but it also meant I saw a lot of inequality and frustrating barriers that people had to face. I think being made aware of these things make my design and artwork choices more empathetic.
What's at the top of your bucket list?
My brother bought me a skydive for my birthday but I'm yet to do it! So I have to get on that. I also really want to go to Japan.
What's the one film you think everyone should see?
I just love The Lion King! I think it affected so many of my life choices: the gorgeous animation inspired me to draw and create, the stunning landscapes made me want to travel. I also love cats, so there we go. I was adamant I was going to be a lion when I grew up until I was about six.
​
Andy McMullan, Employer Partnerships Manager
What made you want to work for Unifrog?
This might sound a little clichéd, but I really believe in Unifrog's mission. Having worked in HE for the best part of nine years, I've seen first-hand the advantages more privileged students have when they arrive at university, with a strong professional network through family and friends, and the benefit of some form of careers guidance early on. Those who haven't had the same level of support are playing catch up from day one. I wanted to join Unifrog to be a part of changing that narrative and supporting students earlier in life.
From a personal perspective, I wish I'd had access to something like Unifrog when I was at school. There was no career guidance or talk of other options, such as apprenticeships. I was someone who went to university because I didn't know what else to do and my school only supported this destination - although I think things worked out well in the end.
How has your background in relationship management and higher education helped you in this role?
My professional background has given me the knowledge and experience to work with employers from a variety of different sectors, and the skills to help them engage effectively with their target audience.
Prior to joining Unifrog I'd worked in the careers offices at The London School of Economics and the University of Essex, as well as in the Faculty of Business & Law at Anglia Ruskin University. During my time in HE, I have predominantly worked in an Employer Engagement capacity. I've been building relationships and partnerships with graduate employers to promote their opportunities; helping them develop and deliver skills and insights seminars; and supporting their strategic objectives regarding equality, diversity and inclusion. I have worked with many different organisations, from large multinationals to local SMEs, and I have learnt to develop solutions to their recruitment challenges. This experience I can now apply to Unifrog's employer partners, but with a focus on school/college students.
If you were stranded on a desert island, what three items would you want with you and why?
My survival skills are fairly non-existent, therefore I think my items would all be about trying to enjoy my time on the island. With that in mind, I would like to take some sort of board, maybe a paddle board or surfboard, because even if I can't escape the island I can at least enjoy being in the water. I'd bring snorkelling gear so I can see all the amazing sea life, and maybe get lucky catching some fish. Lastly I think I'd bring some rum, to enjoy while watching the sunset on the water, and so I can pretend I'm a pirate cast ashore by his mutinous crew.

What's your coffee order?

If I can start the day with a flat white, I'm smiling. But I'm not really too precious about what type of coffee I drink, as long as it's strong.
Ashley Walshe, HE Partnerships Manager
What does a day in the life of an HE Partnerships Manager look like?
My days are spent reaching out to new universities both in the UK and across the world, showing them our incredible platform; working on performance reports for our partner universities and identifying key ways our insights can inform their strategy; and planning opportunities - like webinars - for our universities to meaningfully engage with our Unifrog community.
What do you like the most about your role?
I really enjoy getting to know what a university's priorities are and figuring out how we can support them in achieving these goals. I also love that I get to interact with a diverse range of people, from Paris to Plymouth or Sheffield to Stirling.
What was your favourite subject at school and why?
Definitely drama: I've always been a bit of a performer and love theatre, literature, and the creative arts. When I was younger, I would always choreograph and perform my own dance shows for my family at Christmas.
What would your perfect weekend look like?
Pre-pandemic it would involve going out for a few drinks or a gig on Friday night, then making the most of Saturday by getting out of the city for a bike ride or a hike. I like to have a pretty lazy Sunday - maybe meet some friends for a dog walk before rounding off the weekend with a lovely Sunday roast.
​
Caroline Collins, Employer Partnerships Manager
Describe your role at Unifrog
As an Employer Partnerships Manager, I reach out to both national and international employers showcasing the Unifrog platform and helping them to raise their brand awareness with young people from a diverse range of backgrounds. I plan different opportunities in which students can engage with employers, such as webinars, and help collect information from our employer partners to populate the Know-how library, our Special opportunities tool and our Apprenticeship tool. It's a very exciting time to start this role as it's a brand new part of Unifrog, so I'm looking forward to seeing how this area develops and the employer partnerships we create!
How has your background in social enterprise and higher education helped you in this role?
Before starting at Unifrog, I worked as a Partnership and Engagement Manager at Enactus UK, a youth social enterprise charity which works with university students. My role involved building and delivering partnership plans to ensure that the corporate sponsors achieved return on investment. This role involved exciting opportunities such as working with Amazon's Black Employee Network to build 1:1 mentoring opportunities, creating virtual work experience weeks with Schroders, building grant funding opportunities with SAP and Sodexo, and helping to change Unilever's graduate recruitment processes based on Enactus student feedback. I've also had the opportunity to work with the Careers and Employment Service at the University of Derby.
Both experiences have built my awareness of employability skills, which are vital for the world of work, and what activities I can create with partner employers to help young people build these. I'm excited to bring my experience to Unifrog and continue to support young people to make the best decision about their future.
If you could meet any celebrity, who would you choose and why?
It would definitely be Helen Bonham Carter! With all of the incredible films she has been in like Harry Potter, the King's Speech and the Netflix series the Crown, she's bound to have some brilliant stories to tell!

What's the one film you think everyone should see?

I'd recommend watching Monuments Men. It's an absolutely incredible film with George Clooney, John Goodman and Bill Murray to name a few. It's about seven museum directors, curators, and art historians from the Allied Forces coming together in an effort to protect, recover, and return priceless artefacts damaged or looted by the German army in World War II and is based on a true story. Make sure you add it to your must-see list!

Caroline Marshall, Account Manager
How has your background in coaching helped you in your role at Unifrog?
I think my coaching experience really helps when it comes to building positive relationships with the schools I'm working with in my role. Through coaching, I've developed my listening skills and I find it easier to build rapport with people, which informs my role as an Account Manager nicely.
How do you keep in touch with your team when working remotely?
My Area Manager and I pick up the phone to each other all the time! We use Slack and email as well of course, but I prefer to speak to someone verbally, either on the phone or over a video call, to help me better read into what they're communicating.
What about you always surprises people when you tell them?
I'm a singer in a band! I don't know why this surprises people as I'd like to think I look cool, but it always does. We're a covers band, so we cover versions of songs from the 1980s up to now, but in a faster, louder, rockier way.
What's your favourite sandwich?
My favourite is the classic coronation chicken, which I was a latecomer to. I had my first one at an airport before going on holiday, and I thought, 'this is a revelation!'
​
Cassie Ruddock, Data Officer
Describe your role

My job as a Data Officer is to make sure that all the information we have for our students is up to date, relevant, accurate, and as interesting as possible. On a day-to-day basis I perform regular checks on the live information that changes regularly, like work experience opportunities, and our immense Read Watch Listen catalogue. I've also been looking at South Korean and Croatian university courses - I get to travel the world from the comfort of my desk! I love working in a methodical, structured way, so this job suits me down to the ground.

How has your background in education helped you in this role?

Before I came to Unifrog, I worked at a sixth form college and university in the learning support team. Working directly with students was lovely and gave me a useful insight into what teenagers and young people deal with when they make decisions about their futures - it can be so difficult having so many options and not knowing where to go or what would fit. It's helped me understand what will be most useful for students, and shown me how the tools we have are so useful. The Personality profile, for example, that breaks down elements of careers and pathways to help students make decisions, is so brilliant!

If you could only eat one meal for the rest of your life, what would it be?

Pizza! I just don't get bored of it: the rich, sweet tomato sauce, the melty cheese, some spicy jalapenos, mushrooms, bell peppers, and an indulgent stuffed crust. Mmmmmm.

What book do you always recommend to other people?

I always recommend the Discworld series by Terry Pratchett, and the Tiffany Aching story arc in particular. He writes really well-rounded characters, especially women - they're angry and complex and speak to each other about things other than men! He has a way of making the characters feel real despite the dragons and magic.

Where is the best place you've ever travelled to? Why is it the best?

Scotland. I come from East Anglia which is beautiful, but very flat! Scotland has the most dramatic, beautiful scenery; it's like the Lake District doubled in height! The West Coast is my favourite - I got married in Fort William so I'm biased! - but it has white sand beaches and gets so warm in the summer. I would definitely recommend taking the steam train from Fort William to the coast - the scenery is beautiful, you can order a cream tea, and you go over the Glenfinnan Viaduct.
I've actually moved to Scotland and now I'm 10 mins away from the nearest loch meaning I can go on beautiful hikes and cycle rides whenever I want.
Catarina Rodrigues, Assistant Producer/Director
Describe your role at Unifrog
As an Assistant Producer/Director, I'm responsible for producing, filming and editing video content for the Careers, Subjects, and Know-how libraries alongside our talented content team!

What gets you out of bed in the morning to go to work?
My favourite part of the day is my morning walk to the office, where I mentally go over the list of things I have to do. I appreciate the tall buildings reflecting the sunrise light, and the faces that greet me at the office with a huge smile. A new day begins!

When you were younger, what did you want to be when you grew up?
Growing up in a big family meant having lots of kids around that I could convince to participate in my amateur short films - from remakes of High School Musical to mobster stories.
My dream has always been to direct films and I'm incredibly grateful that I get to live my dream whilst helping people achieve theirs.

Would you rather be able to teleport or time travel? Why?
This is an easy one to answer - definitely teleport! You don't mess with time travelling, unless you're Hermione of course. I would love to be able to visit my family and friends around the world at the bat of an eye!
​
Charley Fowler, Area Manager and UK Education Lead
What do you find most exciting about being a Unifrog Area Manager?

I love the excitement when a new partner school comes on board, and we have the first strategy meeting to establish their goals with the platform. It's exciting to help schools take a step back and think about what beneficial changes using Unifrog can bring to their CEIAG programme. Additionally, my partner schools are spread across the East of England and London, and I find it really exciting when I discover cute coffee shops in places that I never would have visited if it weren't for my job.
As our Gatsby Benchmark Champion, how do you help schools meet the benchmarks?

As Gatsby Champion, my role is to be as clued up as possible on all things CEIAG policy related. With my partner schools, I'll support them in various ways with this. Often, we'll go through their CEIAG plan with a fine-toothed comb comparing this with the DfE's guidance on meeting the benchmarks. Many of my partner schools are working towards achieving CEIAG awards, so I'll help them by applying my knowledge of how Unifrog relates to the benchmarks and the assessment frameworks for the awards they're applying for.
How has your background in teaching helped you in this role?

Before Unifrog, I was an RE teacher at a secondary school in Camden, London. Teaching gave me first hand experience of the challenges schools face in a variety of areas, as well as the positive impact good careers education can have on students. Teaching develops your resilience and your ability to empathise with others. All of these things drive me to do a really good job of supporting my partner schools as an Area Manager. I enjoy addressing the variety of issues my schools face relating to careers and destinations, and I love celebrating their successes using Unifrog to combat these.
What's your favourite song and why?

Tough question! I'm all for a girl power anthem. Fighter by Christina Aguilera is one of my faves.
Charlotte Constable, Content Creator and Project Manager
What made you want to work for Unifrog?
When I first came across Unifrog, the platform sounded so exciting - and it has exceeded my expectations! The wealth of resources on there is endlessly impressive and would have been so useful when I was at school. I also love writing and video editing, so the role of Content Creator and Project Manager sounded perfect for me. Plus, I admired the warmth and supportiveness of the team and its ethos.
What's your favourite thing about your role?
I really enjoy creating content for the Know-how libraries. I have a vested interest in mental health and am pursuing counselling training outside of my role, so to write resources which could support young people feels really rewarding.
If you could only eat one meal for the rest of your life, what would it be?
I am obsessed with food, so this is tricky! I love a chicken pasanda, but I'd have to go for a good old roast dinner. Maybe I could mix the trimmings up a bit from day to day - more stuffing one day, more potatoes the next... and always the option of a dessert (brownie with ice cream, preferably).
If you could meet any celebrity, who would you choose?
I'd love to meet Miriam Margolyes. But they say you shouldn't meet your heroes.

​
Chris Edwards, Head of UK Sales
What does a good day as an Area Manager look like?
As an Area Manager, every single day is different. I can be speaking at a conference in front of hundreds of people one day, and meeting with a local council the next. Hearing feedback from staff and students about how Unifrog has helped them to plan their futures is incredibly rewarding and is always part of a great day at work.
How do you make sure you keep in touch with the rest of the team when you're working remotely?
Working remotely can definitely be a challenge, but staying in constant touch with colleagues over the phone really helps. I usually use the long car journeys to speak with people on handsfree and I also have about a million work WhatsApp groups, so I never feel too far away.
What's your favourite thing to do outside work?
I love being active and struggle to sit still for more than ten minutes. I have a particular fascination with martial arts and I am currently doing kickboxing/Muay Thai training five times a week! I also enjoy taking my dog out for long muddy walks and if I'm lucky, I love a good snowboarding holiday too.
If you could live anywhere in the world, where would it be?
New Zealand. I went traveling around both islands before going to university, and it was the most incredible place. The scenery is unlike anything anywhere else in the world and there is so much to do. You can even ski and surf on the same day, which is right up my street!
Clara Page, Partner Success Lead
What gets you out of bed in the morning to go to work?
I'd say the thing that motivates me to leave my nice cosy bed in the morning is the fact that I enjoy helping people with any issues or queries they may have, as I like to think of myself as a good problem solver. Also, in the mornings when I come to the office, it's a real treat to see an amazing sunrise on my way to work as well as picking up a nice coffee en-route.

What does an average day as a Partner Success Lead look like?
An average day as a Partner Success Lead involves helping teachers and students out with any questions they may have or problems they are experiencing with the platform, either over the phone or via email. We also help onboard new schools through the onboarding process, introducing them to key areas of the platform to get them started on their journey with Unifrog.

Where is the best place you've ever travelled to? Why is it the best?
I think this is a really tough question. Still, if I had to decide, I'd say Mexico has been the best country I've ever visited as the people are just the friendliest, the scenery is incredible, and the tacos are just amazing! Although my favourite city has got to be St Petersburg, as I visited it when it was snowing, the whole city looked magical, and the Hermitage is one of the best museums I have ever visited.
What's the one film you think everyone should see?

Again, another impossible question! This is so hard as I would say my film taste is very broad. I like classics such as Viridiana and Rebecca but then also anything with Will Ferrell in, so make of that what you will. I also have a weird obsession with The 'Burbs from the 80s, which is just Tom Hanks and Carrie Fisher at their best.
​
Connie Wong, Partner Success Lead
What made you want to work for Unifrog?
I've always wanted to work for an organisation that makes a social impact.
In the past, I have volunteered for the Manchester Science festival, where I helped explain the science behind some of the exhibits; and mentored disadvantaged primary school students. These experiences made me realise that I am particularly interested in the education and development of young people, and so I wanted to develop a career in that sector. This led me to discover Unifrog.
Having read up on how the Unifrog platform works, I found it to be a really great idea and I actually became a bit jealous of the students that have access to the platform. I wished that I, too, had had more support from teachers when I was making those big decisions in life. So, I think it's really rewarding to be able to be part of all this and help get teachers engaged in these processes.
What gets you out of bed in the morning to go to work?
For me, it's staying optimistic and spending a minute lying in bed trying to imagine how I will be having a wonderful day ahead. In that wonderful day, I will be having a great day at work where I will be able to help make a big difference in young people's lives, and solve queries from teachers so that they are able to help their students as much as they can.
What about you surprises people when you tell them?
As I'm very petite and dislike getting into arguments, people are surprised when I tell them I am a black belt in Taekwondo.
Build the best ice cream sundae!
I love the smell of coffee, and so my ice cream sundae would definitely include two scoops of coffee ice cream, and probably two scoops of vanilla ice cream to mix it up a bit. It would then be topped with some Irish whipped cream and some caramel sauce. To finish off, I would add some almond flakes and chocolate curls to make it look even more delicious!
Coralie Colmez, Director and co-founder
Describe your role
I'm one of Unifrog's founders, so over the years my role has included pretty much everything from Sales to Data analysis to HR. These days, I get to spend all my time on what I like the most, which is developing the platform.
We look at ideas from wherever they come, including teachers and students at our partner schools and everyone in the team, and decide which ones we want to go forward with. I then work with Alex (the co-founder) and our lead programmer Stu to make them happen! I focus mostly on our products that involve using data, whether that's information from outside sources like UCAS or job market predictions, or usage stats from the platform.
How do you make sure you keep in touch with the rest of the team when you're working remotely?
The person I talk to most is Alex, and I live with him so that hasn't been too challenging! Otherwise, day-to-day I work with a small team that are in charge of the data we use on the platform. Most of what we do is cleanly separated into different projects, so we can keep track of almost everything by email, and an occasional Zoom call. For things that involve more of the team, we started using Slack and it's great, both for smaller work questions and just to keep in touch.
What advice would you give to your younger self?
Always ask yourself what it is that you really want, and then do that instead of doing what the world expects of you. And remember that the decisions you make are very rarely permanent, and you can change your mind and your life at any point.
What book do you always recommend to other people?
I love reading, so this could be a long list, but one of my favourites is Station Eleven by Emily St John Mandel, which is about… a pandemic - so recently, people have been a lot less enthusiastic when I recommend it to them! Her writing gives the book an addictive other-worldly feeling, and it has a very lovely message about the importance of art.
What does your ideal weekend look like?
Sleeping in indecently late, sun all weekend, a good party, and the perfect level of hangover.
​
Daniel Keller, CEO
Describe your role
I'm ultimately responsible for Unifrog's success, both in terms of our continued growth and when it comes to achieving our mission. This means I'm involved in lots of things from strategic decision making to company culture to managing our finances. There are always new challenges and ways we want to progress, which keeps things interesting.
What motivates you to work at Unifrog?
Growing our organisation and having a positive impact, plus working with a fantastic team.
If you could meet any historical figure, who would it be and why?
I studied ancient history at university, which I really enjoyed, so someone from that period. Alexander the Great seems like a bit of an obvious choice - he got quite a lot done before he died in his early thirties. He was tutored by Aristotle, conquered the massive Achaemenid Persian Empire, and got a ton of mileage in for a time when you'd only walk or travel on horseback - so I expect he'd have some good stories to tell.
What does your ideal weekend look like?
That's a tough one. Probably a weekend spent at a world class climbing venue with good friends and good weather. Lots of trying hard, getting a bit scared and some small beers to finish the day. Ski touring in perfect powder condition would also be right up there. Essentially, if it involves coffee, the outdoors and a healthy dose of suffering then I'm happy.
Dave Nicholson, Account Manager
What made you want to work at Unifrog?
As one of a relatively small number of students at my secondary school who went onto university, I've always felt very aware that the platform needs levelling in terms of students being able to access resources to inspire their decisions for their future. When I became aware of Unifrog and what it offered, I felt slightly jealous I didn't have access to it myself at school age! I was very excited at the prospect of working with schools to offer the platform to their students and supporting them in doing that.
Describe your role at Unifrog

In general terms, I am responsible for trying to make sure that all our Partner Schools in Warwickshire and Oxfordshire (and slightly further afield!) can get the most out of Unifrog.
This means speaking to schools new to the system and helping them use the system to make their lives easier than before they started using Unifrog, and also working with longer term partners to ensure that they are maximising what Unifrog can offer them. This could be new features, an area of the platform they would like to use to support their Careers aims going forwards or simply refreshing them on something they might have already seen.
If you could be any superhero, who would you be?
I think I'd be Spiderman. Sometimes people get down on lil' Spidey because he can't do much apart from shoot webs and react quickly, but I'm a goalkeeper in football. so those reactions would definitely lead to me playing in goal for England. I think the web thing would be very useful for when I'm feeling lazy and want to grab something across the room. Being someone like Superman would be far too much pressure as well.
What's your favourite thing to do outside work?
I'm a big sports fan but I wouldn't honestly say I enjoy following York City FC these days. I love playing cricket on a warm summer day and having a few drinks afterwards. I am also a fan of quizzes - I do a lot of pub quizzes and am part of a quiz league - so I'm reasonably likely to be able to pluck some obscure knowledge out at any given moment. A weak claim to fame is that a clip of me went slightly viral when I appeared on Pointless on the BBC, and not for embarrassing reasons, fortunately.
​
Elizabeth Verner-Pollard, Area Manager
What do you like most about your role at Unifrog?
My favourite part would have to be the interactions with schools. I'm naturally curious, and relish meeting with new schools to understand their needs and challenges. I also find it hugely rewarding to support partners to get the best out of the Unifrog platform for each and every one of their students.
What motivates you to get out of bed for work?
What motivates me is the feeling that I am doing something worthwhile. I am part of an organisation that is helping to make a difference to the futures of young people by raising aspirations, removing barriers and widening participation. Oh, and a couple of wet noses and wagging tails beside the bed get me up bright and early.
What book do you always recommend people?
I always recommend 'Wonder' by R. J. Palacio. It's a great book about the importance of kindness, and was the first novel my son chose to independently read - which can be quite an achievement for boys - and then re-read many times over. He loved the film too, but thought the book was better (a win!).
What advice would you give your younger self?
You are your biggest critic and are more capable than you believe. Besides, pretty much everyone else is winging it too! Take every opportunity to try new stuff to find your 'thing', and then do what YOU love - not what you think will please others. Also, almost nothing in life is permanent. If it doesn't work out it is probably for a good reason (even if you can't see it at the time) and a chance do something different. Above all: be brave.
Evelyn Stanley, Account Manager
What made you want to work at Unifrog?
I heard about Unifrog from a good friend who is also a teacher. Hearing how useful her students found the platform made me research it, and I was glad to see there were vacancies! I like that Unifrog lays out information in a transparent way so that young people have the tools needed to make their own decisions about their futures. I also like that the platform is constantly changing, as this makes Unifrog an exciting place to work.
What does an average day as an Account Manager look like?
Account Managers support schools and their students to make the most out of their partnership with us. On an average day this means I speak with educators such as careers leads, senior leaders, and teachers to learn about how they use Unifrog in their school, and set goals with them for the future. The platform is huge, so day to day I deliver staff training, answer questions, and generally ensure our partner schools are set up for success. Since every school is different and the platform gains new features all the time, there is a lot of learning on the job which keeps things exciting.
Who would play you in the movie of your life and why?
I'd choose Reese Witherspoon, because I love her style as Elle Woods in Legally Blonde.
What would your perfect weekend look like?
I like having one day to be active and one day to relax on the weekend. So maybe catching the train to the seaside with friends on Friday night, spending Saturday at the beach, then coming home on Saturday night to spend Sunday indoors. On a relaxing day I like to sleep in, then order a pizza and watch reality TV.
​
Farhana Somani, International Area Manager
Describe your role as an International Area Manager at Unifrog
My role is to introduce Unifrog to schools in Asia and help counselors and students at those schools get the most out of the platform. I'm from London, but I'm based in Hong Kong, so it's easy for schools in Asia to get personal Unifrog support whenever they need it.
What does a normal day look like?
It's a cliché, but one of the best things about my role is that no two days are the same. I might be in the office training counselors on a video call, visiting a school to launch Unifrog to students, or at a conference meeting counselors from all over Asia. I also chat to my team regularly to bounce ideas off them - even though we're scattered around the world, everyone is really supportive.
What do you enjoy most about living and working abroad?
Before getting this job I'd never been to Asia, so it's been amazing to explore new places on work trips and weekends - and try the food. My favourite trip so far has been to Vietnam, where I tried my first grilled frog!
Hong Kong is a really exciting place to live and I'm always learning new things about the city. My current challenge is to learn some more Cantonese so I can talk to taxi drivers.
What do you miss about home?
Nando's, my eyebrow lady, and complaining about the cold.
Greg Brown, HE Partnerships Manager
What does a good work day look like to you?
The great thing about working at Unifrog is that every day is different and we are constantly innovating! As a University Partnerships Manager I'm often travelling, so when not on the road at conferences or fairs I really enjoy working from home in the peace and quiet. Plus, I always get to choose the 'office' music!

A good day will involve meeting with Unifrog partners, which requires me to be flexible with timing – I could be speaking with people in India in the morning, Europe at lunchtime and the USA in the evening!
What's the most exciting thing that's happened to you whilst travelling for work?
A couple of years ago I was in Singapore visiting some Unifrog schools and I decided to take a trip to the 'Treetop Walk' in MacRitchie Park. I knew there were lots of macaque monkeys around but I didn't bet on just how aggressive they could be. As I was crossing the bridge I saw them sizing me up but decided to take a selfie on the bridge anyway. Just as I was looking at the screen, I could see a big macaque monkey charging at me from behind! It jumped on to my shoulders, reached into my bag and tried to grab my stuff. Thankfully I'd seen it coming so turned around quickly and fought him off. He was obviously after the Unifrog booklets in my bag…even the monkeys are keen!
Where are you living at the moment?
A few years ago I moved to Copenhagen from London. I love living here and because Copenhagen is a lot smaller (and quieter) than London, it means you're never too far from the beach or forests as well as the city centre. The best thing is the freedom to cycle around the city. Danes are obsessed with cycling, and there is even a word - 'Copenhagenize' - which describes making a city better for getting around by bike. The food is also amazing and although I'm not that into seafood (which is a big deal here) there are plenty of delicious pastry shops and ice cream stands to keep me happy. If you need an excuse to visit, just google 'Nyhavn Sunset'.
You grew up in Northern Ireland - what are your favourite things about it?
Northern Ireland has a unique charm to it which is hard to find anywhere else. It's a small place with a real sense of community. If you meet another person from Northern Ireland elsewhere in the world, then you've an instant friend. Despite its small size, it has amazing scenery, from rugged rocky coastlines to sprawling mountains and lakes. The slower pace of life makes it a lovely place to relax when I'm home visiting family and the food always goes down well - an Ulster fry with potato and soda farls, Fifteens and Yellowman honeycomb!
​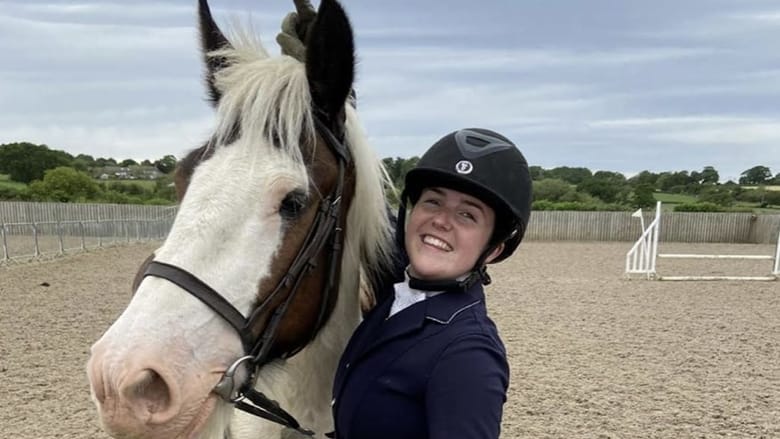 Hannah Smith, Events Assistant
Describe your role
My role is to assist the Events Manager in the seamless execution of in-person and online events. Generally, that means I have input on webinar topic ideas, creating the descriptions for upcoming events, and uploading all the relevant information onto the Unifrog platform. I also contact webinar hosts, potential panelists, and any Unifrog teams that may find an upcoming event useful as well as lending a hand to the Marketing team.
What gets you out of bed in the morning to go to work?
Having grown up in rural North Yorkshire, I'm truly driven by Unifrog's mission to level the playing field for students across the country (and the world!) regardless of geoeconomics. Besides that, I love getting to know the team on my lunch breaks and all the social events that take place!
What was your favourite subject at school and why?
My favourite subject at school was Spanish! Before I moved to Yorkshire, I lived in Kenya and then Milan, so I was exposed to lots of languages and cultures from a very young age which made it all the more interesting to me later in life. I also spoke Italian at Kindergarten in Milan so that made Spanish much easier than other subjects at school.
If you could live anywhere in the world, where would it be?
My last answer may be a slight giveaway, but I would love to live in Southern Spain for three reasons: 1) I am like a lizard and love hot places, 2) I would be able to speak Spanish more often, and 3) I could keep my horses on a ranch in the gorgeous Spanish countryside not too far from the beach so I could ride on the beach at weekends!
Hayley Jayne Wilkinson, Account Manager
What do you like the most about your role?

Meeting new people - it's mostly been on Zoom so I'm looking forward to meeting people in person again! I work with lots of different teachers as well, and love being able to help them out and share my knowledge and excitement about the platform with them!

What's the best thing about working at Unifrog?

Definitely the people. I love spending time with the team on our team days and catch ups - even when they're online and not in person! And it's not just the people, but the whole ethos behind what we do for our users and our employees. We really do look after each other and Unifrog as a company looks after us. We have so many measures to support our wellbeing and to make sure we are happy! We have a staff book club, we do quizzes, and we run social activities like a bake-off (which I won, by the way!).

What's your favourite pizza?

It's a strange one! First of all, it has to be a pizza on a proper fresh dough base. Then, I like BBQ sauce instead of pizza sauce, and my three toppings are chicken, red onion, and pineapple. Pineapple on pizza is the best and BBQ sauce has a hint of sweetness that brings out the flavour of my toppings perfectly- I have a sweet tooth so it's so me! Oh, and you've got to have a garlic and herb dip to top it off! So good!
Where is the best place you've ever travelled to? Why is it the best?

In 2018, I went to Stockholm with my fiancé and absolutely loved it. We went in November, so it was very cold but I do enjoy the winter and getting wrapped up warm. It was such a lovely city - not too busy and plenty of history to explore and learn about. As a stationery addict, the highlight of my week was discovering lots of new stationery brands and stores. Scandinavian stationery design is my favourite so I certainly stocked up on lots of new notebooks and pens whilst I was there!
Which reality TV contest/programme do you think you'd win? Why?

My family always tell me to go on The Great British Bake Off! In fact, my fiancé thinks my cakes are better than the ones he's eaten from bakeries, and he's really critical so for that to come from him is high praise!
I love baking, but I actually think I'd be too nervous for Bake Off. I feel like I wouldn't have a clue for the blind bake and the timings would stress me out. I'm normally really calm but baking just does something to me! I was baking one evening at home for my team in my last job and it went wrong - I got so stressed, I threw the pan across the kitchen and my fiancé banned me from baking for work! I would make headlines with my stress! As much as I love baking, I love eating the cake - if you're not allowed to lick the bowl on Bake Off, I don't want to be on it!
​
Helen Clifford, Partner Success Lead
What made you want to work for Unifrog?
I had just finished a PhD and wanted to stay in the education sector, but move more towards outreach and access. I had only just started the job search but when the role with Unifrog came up I was really keen to apply, and it worked out really well! Unifrog's social mission is really important to me, and I love feeling that I'm a little cog in an organisation that's making a difference to people every day.
What does an average day as a Partner Success Lead look like?
Busy! We get lots of emails and calls to answer helping our partners to get the most out of Unifrog, as well as solving any tricky technical issues for them.
If you could only eat one meal for the rest of your life, what would it be?
I can never say no to noodles, so I'd probably choose pad thai!
What's your karaoke song?
I'm not a big karaoke person (don't tell anyone), but I have learned from past experience that Uptown Girl is never a good choice because the chorus always goes on for far longer than you expect and requires some serious breath control!
Jacob Lovick, Area Manager
What does a day in the life of a Unifrog Area Manager look like?
The day breaks. I open one eye, then the other, grinning and chuckling in anticipation of another day of evening out the playing field for school students. I crack my fingers over a warm cup of Earl Grey and delve into the treasure trove of a fresh inbox, hands warmly embracing the keyboard and brain whirring into action. I field enquiries about adding tools to schools' accounts, demonstrating the platform to those few, those unhappy few, who aren't yet Unifrog subscribers in North London, East London, Essex, Suffolk, and some parts of South-West London (not including Kingston-upon-Thames). I'll have strategy calls that change lives, days, moments, with intricately curated advice and feedback. Perhaps I'll swing by the office, for unlimited free tea and unlimited croissants on Mondays and Thursdays. Then, I tread satisfied, once again, to bed. Satisfied in the knowledge of an Area that has been well and truly Managed.
What part of your job do you find most challenging?
Concise answers. Though it is perhaps possible to be too enthusiastic about the services and benefits that Unifrog can offer a partner school, I often struggle to keep my answers tight and focused to the specifics of the question that's been asked. I find myself stood at the top of a mountain of metaphors with a dizzy head and wondering how I'd got there. But I hope that, like a Sherpa, my love for the tools that we offer, the range of things available and my willingness to help, will overcome this mountain, and get teachers to where they want to be.
What's the funniest thing that's happened to you when you've been visiting a school?
The teacher that greeted me at the school reception with the phrase 'Robert! Great to have you back!' I had never been to this school before, and my name is not Robert. He took me around the school, introducing me as 'Robert!' to absolutely everyone, far more than was necessary. He even once or twice stared at my name badge, which clearly read 'Jacob', before proceeding to call me 'Robert!' twice or even three times in the following sentence. I then stood up in front of his colleagues, having been introduced as 'Robert!' by the same man, and began with the phrase 'hello everyone, I'm Jacob'. Ashen-faced, the teacher stood and left the room. I didn't see him again.
What about you always surprises people when you tell them?
I also do a lot of writing and comedy outside of my work for Unifrog. People tend to find this extremely surprising.
​
Jacqui Hogan, Account Manager
What does your role as an Account Manager at Unifrog involve?
It involves visiting lots of schools and colleges and trying to understand how we might best be able to support them in delivering and monitoring their careers guidance.
What do you enjoy most about working with schools in the North of England?
As a Northener, I love working with schools in the north of England. Every day is different and I enjoy getting to know all the students and teachers in my various partner schools. My work involves a lot of driving and I get to drive through some of the UK's most stunning countryside.
Is working for a social enterprise important to you?
Working for a social enterprise is very important to me. As a child I lived in what was considered to be an underprivileged area and know only too well the challenges that this can pose to young people. The fact that Unifrog aims to help level out the educational playing field, giving students access to information and resources to help them find the best destinations and opportunities for them is a huge incentive for me and make me feel proud to be a part of it.
What's the best piece of advice you've ever been given?

It's a Marcus Aurelius quote: 'Do not think that what is hard for you to master is humanly impossible; and if it is humanly possible, consider it to be within your reach.'
Jake Gill, Area Manager
What made you want to work for Unifrog?
It's really important to me to work for an organisation that really values its social impact, and that couldn't be more true of Unifrog. Before I came to Unifrog, I was working in education engagement in schools across the North, which shone a spotlight on the differences in opportunities presented to young people because of their postcode or background. I wanted to find a role where I could be genuinely passionate about the product, and the more I saw of the platform and the work that goes into it, the more impressed I was! When I heard about Unifrog's goal of levelling the playing field for all students, I knew I had to be part of that mission.
What's your favourite Unifrog tool and why?
It's a close call as there's so many to choose from, but my favourite has to be the Special Opportunities tool. When I was making my own post-18 choices, the amount of digging required to find the right information around special opportunities was immense and a little overwhelming. Scouring pages of university websites to find information and schemes, only to read in the small print that I wasn't eligible, was quite frustrating. When I first saw the Special Opportunities tool, I was amazed at how it brings all the information into one place and what that means in terms of removing barriers and widening participation.
If you could be any superhero, who would you choose?
I'd be The Flash. I've always been fascinated by time travel, so having the ability to look back into history or peek into the future would be very cool. Being the fastest man in the DC universe would also come in handy when visiting some of my further partner schools in Scotland and the Lakes.
What's your favourite sandwich?
It depends - if I'm grabbing a meal deal for lunch, a BLT is always a safe bet. But when I first moved to the North East, I was introduced to the Saveloy Dip. Translation: a bread roll with saveloy sausages, pease pudding, mustard, stuffing and dipped in gravy. Don't knock it 'til you've tried it!
​
Jen Carter, Account Manager
What's your favourite thing about your role?
My favourite thing by far is getting out into schools and colleges and meeting my contacts, to chat through how they can use Unifrog most effectively. No two schools use it in exactly the same way, and everybody has challenges which I love to try and overcome. The platform is so flexible in the way it can be incorporated into the curriculum, and the perpetual tweaks and content launches mean that my meetings are always punctuated with exclamations of "I didn't know it could do that!".
As my contacts will testify, I love a cuppa and a catch up, and I really enjoy building relationships with my schools and colleges so that everyone feels supported and able to come to me with anything they might need, be it platform queries, suggestions for future tweaks, or requests for training.
What's your favourite anecdote about Unifrog having an impact on a student's life?
Technically this isn't one of my wins, but a fantastic colleague of mine went into a school on the day the Canadian University search tool was launched, and on a whim (or was it pure serendipity?) she decided to showcase that tool. For one of the students there that day, it opened their eyes to the world of possibilities, and they subsequently applied and were accepted to study in Canada. Unifrog really does change lives!
What advice would you give to your 17-year-old self?
There are a few clichés that I could come out with here and they'd all be true!
Act now, apologise later.
Don't stress too much; whatever will happen is going to happen anyway.
Follow your instincts - they are there for a reason!
Pretend to be confident until it comes naturally.
Procrastinate less (having spent far too long thinking about these questions, I'm not sure I've learnt this lesson yet!)
What do you get up to when you're not working?
I'm married with two teenagers and a dog, so they take up a lot of my time! Alongside working part-time at Unifrog, I'm also studying towards becoming a qualified Psychotherapist, a subject I love and find fascinating. I also volunteer at Cruse Bereavement as a counsellor which is incredibly rewarding.
My favourite way to relax is taking long walks along the river near where I live with my dog. That or playing cards, board games and video games with my kids.
Jess Wells, HE Partnerships Manager
What do you like most about about your role?

This is going to sound super clichéd, but the best thing is definitely meeting new people! As a HE Partnerships Manager, I work with universities across the globe and there is genuinely nothing better than getting to know them, and finding out exactly how Unifrog can support them in achieving their objectives.

What's your favourite Unifrog tool and why?

My favourite is definitely the Special Opportunities tool! I imagine everyone always says this, but I wish I had access to all of that information in one place when I was at school. I think collating important info around widening participation schemes and scholarships is super useful for any student considering university.
If you were stranded on a desert island, what three items would you want with you and why?
I'd definitely want my favourite lip balm; I imagine my lips would get pretty dry in the heat and I'm literally never without it. My dog Muna would also have to be there because she's great company and is pretty well-versed in keeping creepy-crawlies away. And maybe my dry robe so I can enjoy some comfort after a swim in the surrounding ocean.
Build the best ice cream sundae!
I'm a sucker for rum and raisin, so that'd have to be the base. Then a layer of Ben & Jerry's Cookie Dough, and topped off with a dollop of raspberry ripple. Maybe with a sprinkle of peanut M&Ms and Milky Way Magic Stars. I'm not sure if that sounds amazing or totally hideous actually.
​
John Hillis, Area Manager
Describe your role
I'm an Area Manager covering Leeds down to Northamptonshire - that's about 250 schools and colleges. When I started in 2015 there was just a small group of us doing everything from admin, accounts, sales and marketing, and training teachers. Now there are around 50 of us! My day usually involves demonstrating the platform to potential partners, training teachers/staff, arranging webinars and CPDs, all from home at the moment until the occasional dog bark or doorbell interrupts the little grey cells!
What's your favourite Unifrog tool and why?
Apprenticeships and MOOCs. I know that's two favourites, but I've always been passionate about both since joining Unifrog. Both my sons did apprenticeships, and the value of MOOCs is something I've always promoted.
What book do you always recommend to other people?
The Psychopath Test by Jon Ronson, Tell No One by Harlen Coben, and the Bible, by you-know-who. Something for everyone there!
What's your ideal weekend like?
Walking in the Lake District. I've gone at least once every year since I was 17, apart from the last year due to the pandemic, and 2001 due to the foot and mouth outbreak. I've been lucky to see the Brocken Spectre recently, and the Hale-Bopp comet in 1997. I think I've done most of the Wainwright walks several times.
What's the most unusual thing you've ever eaten?
In South Africa, we had snake, crocodile, and impala at a BBQ. The snake was like chicken as was the crocodile, and impala was like fillet steak.
Josie Allison, International Area Manager
What motivates you to work at Unifrog?
I was really lucky to have such a great time as a student when I was at university. I made friends for life and loved how much there was to do in London, so I am really motivated to help students around the world find the right university choice for them. Also, the absolutely incredible International Team at Unifrog; working with such lovely people motivates me every day!
What's your favourite Unifrog tool and why?
I love the Subjects library. There are so many incredible subjects to study and even now sometimes I just like to go through them all and imagine what I might do if I went to university again. Having studied anthropology, which is not a very well-known subject at school, I think it is so important for students to be able to broaden their horizons through Unifrog!

What's your favourite sandwich?
My favourite guilty pleasure sandwich is the chicken Caesar baguette from Pret. I would genuinely have it every day if I could, and when I travel around to visit schools, it is always my train journey treat.
What's the best joke you know?

What do you call cheese that isn't yours? Nacho cheese!
​
Kai Feltham, Account Manager
What gets you out of bed in the morning to start work?
I'm very much a people person, so the thing that gets me out of bed is the enjoyment I get from bothering other people! I'm not very good in my own company, so whether it's with a teacher or a colleague, I look forward to that first conversation.
What's your favourite Unifrog tool, and why?
My favourite would have to be the UK Universities tool. When I was at school, I wasn't sure what I wanted to do. I applied for a couple of things, and then panicked the month before I was due to start uni and pulled out at the last minute. Then, I went and did my own research to find what I really wanted to do. So I know that if I'd had access to the UK Universities tool when I was at school, it wouldn't have been as stressful a process.
If you could eat only one meal for the rest of your life, what would it be?
I'm a lover of proper fresh pasta. If money was no object, I'd eat out as much as I possibly could, so I'd choose pasta from an Italian restaurant. I love seafood as well, so I'd probably go for a dish with salmon, prawns or mussels maybe.
What's your favourite way to spend a day off?
I'm quite a busy person and rarely have a lie-in. So my ideal day off would be getting up around 8 or 9am, having a strong coffee, and probably going for a walk around Gunnersbury Park and doing some dog-spotting. I'd go along to the football in the afternoon - I support Wycombe Wanderers, for my sins - then in the evening, I'd see live music at a venue like Brixton Academy or The Roundhouse. And finally, I'd round it off with a couple of drinks, probably regretting some of my decisions the next morning.
Kate Garlick, Head of Teacher Content
What gets you out of bed in the morning to go to work?

I'm incredibly lucky to have a role where I both enjoy my work and really believe in what I'm doing. It's so important to me to feel like I'm making a positive difference, and the more I find out about the Unifrog platform and everything it has to offer young people, the more proud I feel to be part of the team.

I also really love my home office setup – the vibrant blue walls make me smile every morning!

How do you make sure you keep in touch with the rest of the team working remotely?

We keep in touch using a mixture of emails, video calls, and a messaging platform called Slack. I'm also looking forward to some face-to-face team days to meet people in person.

After years of teaching in busy secondary schools, I thought that working remotely might feel a little strange or isolating, but it's amazing how easy it is to communicate and how quickly I settled in and felt part of the team. It helps that everyone who works here is super friendly!

What would your superpower be?

Because I've got friends and family in different parts of the country and the world, I feel like teleportation is the obvious choice. However, there would always be the worry that I'd be kidnapped and experimented on, or forced to use my powers for nefarious purposes. (I'm an overthinker).

I could get around this by keeping my powers a secret: I'd pretend to begin a journey, hide somewhere with a book and some snacks for a few hours, then teleport to my destination complaining about traffic or baggage delays... but I'd be living on my nerves in case my powers were accidentally exposed!

A less stressful option would be a superpower inspired by the babel fish from Douglas Adams' The Hitchhiker's Guide to the Galaxy: the power to understand and speak any language in the universe. Being able to strike up a conversation with anyone in the world in their native language would be unbelievably cool!

What's your pizza order?

I'm obsessed with vegetables – especially sundried tomatoes and chargrilled artichoke – but my enthusiasm for veg can get out of hand. A few years ago I got very giddy at a pizza place that allowed unlimited toppings and asked for every vegetable on the menu; the resultant pizza was so watery I could have eaten it with a spoon!
​
Kathryn Donnelly, Account Manager
What made you want to work at Unifrog?
I was a teacher before this and I loved Unifrog - I thought it was an absolutely brilliant platform. But the main motivation for me is to 'level the playing field' for students, giving students who aren't in privileged positions the opportunities to learn what is available to them. I worked in the north east in a deprived area, so I was able to support those students as a teacher, but now I can help students nationwide by working for Unifrog!
What does an average day as an Account Manager look like?
An average day involves helping lots of teachers via emails and video calls. It's great because I get to speak to so many people across my region. I'm just about to book my first face-to-face school visit too, which is exciting.
What book do you always recommend?
I was an English and Film Studies teacher, so I recommend L'Étranger by Albert Camus - it's amazing - or Ernest Hemingway's The Sun Also Rises. Both a bit miserable, I'm afraid.
Build the best ice cream sundae
This is so difficult! My dream sundae would be chocolate-heavy, as I'm a bit of a chocoholic. I think peanut butter ice cream on the bottom, maybe some chocolate sauce… Ben & Jerry's cookie dough ice cream… then some more chocolate sauce… lots of whipped cream (a must), nuts, and some more chocolate sauce. And maybe some more chocolate ice cream in there.
Kelly Lake, Account Manager
What part of your job do you find most challenging?
The thing I find most challenging is actually also one of the things I enjoy the most - it's the fact that no two schools do things the same way. I currently work with around 190 different schools and colleges and each one of them has their own method, their own standards, their own individual goals and challenges... so there's no way I can take a 'one size fits all' approach. It makes my job really varied and I enjoy working with my partner schools to find the best way of supporting them.
Would you rather be able to teleport or time travel? Why?
Both! If I had to pick one I'd say time travel. I have always loved history, I find it fascinating to think that if just one thing had happened another way then our entire lives could be totally different. But it's easy to forget that being an historian is partly about being a storyteller - re-telling and interpreting the events of the past based on sources there's often no real way to prove or disprove. 'History is written by the winners' as the famous quote says, so I'd really like the chance to go back and see things as they actually happened and learn the stories and perspectives of the people you never get to hear about in class.
What have you ticked off your bucket list so far?
Walking over hot coals. My friends arranged a firewalk at their wedding reception a couple of years ago. It was optional and I spent the whole day completely certain that I wasn't going to join in. Then the time came and it occurred to me that I wasn't likely to get the opportunity again any time soon so off came the shoes! It was awesome actually - even though your logical mind knows it must be safe because other people have done it and not been hurt you still have to convince yourself that stepping onto the coals isn't going to end badly for you. I felt amazing once I'd done it!
What about you always surprises people when you tell them?
The fact that I have a collection of swords and knives tends to raise eyebrows! I used to be pretty handy at using them too, a group of friends and I worked in street theatre together and used to choreograph sword-fights for the shows or for demonstrations at events. I never meant to collect them, it all started with me keeping a prop. Then I bought a replica at a local English Heritage event one summer and the numbers have been slowly going up ever since - mostly from people giving them to me rather than me taking shopping trips. I even have a replica Roman suit of armour in my loft! So yes, that tends to surprise (or possibly worry) people.
...that or the fact that I'm a big Sylvester Stallone fan...
​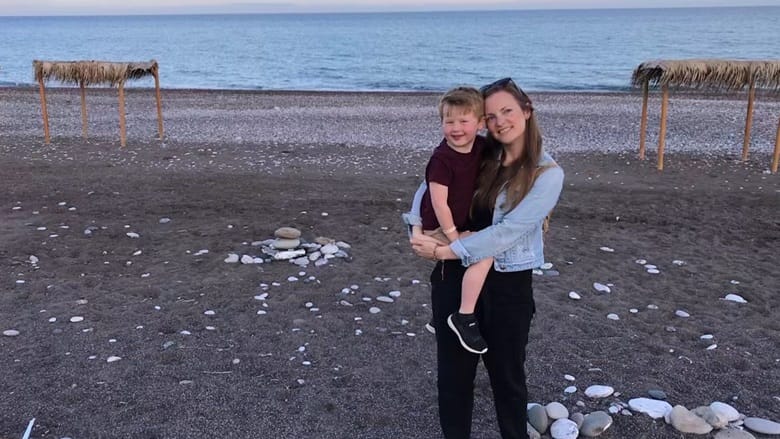 Kim Anderson, Area Manager
How long have you worked at Unifrog and what have been the biggest changes in that time?
I'm pretty old school at Unifrog, joining the company way back in 2015. I can remember the early days when we only had three tools. Unifrog is constantly developing and improving so there isn't just one big change. I guess the main change is that there's now too many of us to all fit around one desk at Team Day!
What's your favourite tool on the Unifrog platform?
It's like asking which is my favourite child! The UK university tool will always be a stand out winner; it never fails to impress people when they see it for the first time. It also makes me wonder how I made a decision on university back in the day, basing my decision purely on the pictures in prospectuses. Other than that the Subjects library - in particular the 'Geek Out' section - as it's jam-packed full of cool stuff. I would definitely have loved it as a student.
What part of your role do you find most challenging?
Getting hold of teachers! You guys are always so busy that trying to find time to speak to a teacher is like trying to pin down water.
What's your favourite film and why?
Film would be my specialist subject on Mastermind. I'm such a geek - surely no-one can have a favourite? I probably have a favourite in every genre. Growing up with a big brother definitely formed my taste, starting with The Goonies, Rocky and Lethal Weapon (I didn't say it was good taste!). But now being a mum, you don't really get a say, although Moana and The Lego Batman Movie are actually surprisingly good.
Lizzie Brennan, Data Manager
Describe your role as Data Manager at Unifrog
As Data Manager, I help to maintain and update all of the information we have on our opportunity search tools, as well as researching and designing new tools to add to the platform. This means my job can have an instant impact on hundreds of thousands of students all around the world, which is very exciting! It's super important we have the most up to date, impartial information to show to students to allow them to make informed decisions about their future.
What's the most challenging part of your job?
I'd say the most challenging part of the job is making sure that we are always on top of the latest developments and releases in education-related data. There are lots of great data sources which release data on a whole range of different areas in education, from the amount of students who go on to a graduate job once they finish a particular course at a particular institution, to the latest Ofsted reports for a school or apprenticeship provider in the UK. We need to make sure we have the most recent, relevant information to share and also look out for any new data points which we could use to supplement the information we already have. Getting feedback from students and teachers using the platform is also crucial to making sure we achieve this.
You were very involved in Unifrog's move to a new office. How did you make sure that this would be somewhere the team were happy in?
People spend a good chunk of their day at work so we wanted to try and make the new Unifrog office a place people enjoy coming to, rather than just somewhere they have to be! We've made sure the space has lots of light, plants and colourful furniture to promote a happy, positive environment and we've also made sure people have the chance to add their own touches to the space. As we've now moved over from a shared to a private office, we've also invested in an office radio and it has exposed us to lots of questionable music tastes…
What are the best and worst bits of being an Arsenal supporter?
I was brought up an Arsenal fan, with my family all having their roots in Islington, but unfortunately during our glory days I was too young to appreciate how good we were. It's good to know our history, but since I started taking a serious interest it all went downhill and let's just say the struggle is real and I'm missing my favourite Frenchman…
​
Logan Wilcox, Data Analyst
How did you find starting a new job while working remotely?
I had already been working remotely for a while prior to joining Unifrog so it sort of felt like the default. Although, I definitely missed being able to meet people properly, especially since everyone here is super friendly and easy to get on with.
What's the most surprising thing you've learnt working at Unifrog?
That the thought of work doesn't have to be negative and I can even look forward to it. (I still look forward to finishing and getting out to do something though!)
If you were stranded on a desert island, what three items would you want with you and why?
Magic speakers, a library and Adam Peaty. I'd bring Adam so I can fashion a deckchair out of wood, strap it to his back and ride on out of there once I've read the books and the speakers break.
What advice would you give to your younger self?
Other than the obvious investment advice and some well-placed bets - I'd say focus on yourself and not on your surroundings. Invest time and money into yourself as much as possible. Try as many different things as you can and lean into that which you enjoy, without worrying what others may think.
Manuela Piñeros-Rodriguez, Data Analyst
What made you want to work for Unifrog?
Before starting my role at Unifrog, I was working as a college teacher in Canada. I was looking for a change, ideally in a role that was still related to education - and Unifrog was exactly on the right lines! I really vibed with its purpose. The importance of a tool to help students pick their careers was something that really resonated with what I had seen in my college work. Plus, I would have used it when I was a student!
What does a typical day as a Data Analyst look like?
Our role as Data Analysts is essentially to work out the solutions to questions that different teams have. So my day is usually divided into firstly understanding what questions need answering, before looking at how to answer those questions with the data we have available. Then, once I've detangled the data, I figure out how best to present it, make any important results stand out, and make it easy for people to understand.
What was your favourite subject at school and why?
My favourite was math, because I was good at it, and I liked being good at it! But I also really liked solving problems. The idea that I could learn how to solve problems, then create problems for myself to figure out, was something I really enjoyed.
What is your regular coffee order?
If it's the morning, I like a black filter coffee to get things started. But for a treat later in the day, it's always an oat milk latte.
​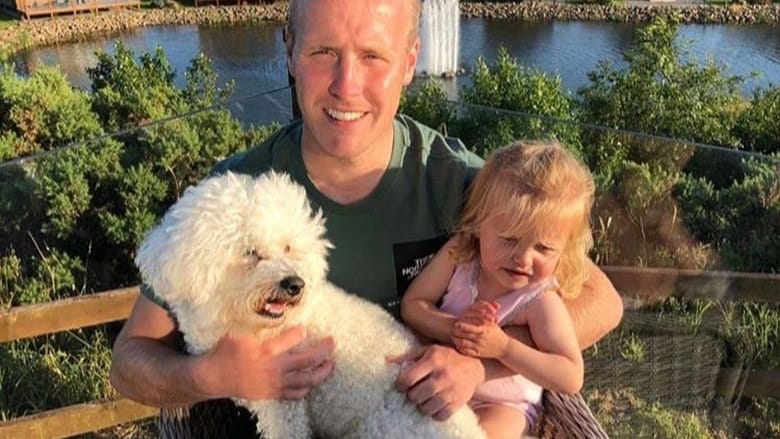 Matthew Jones, Area Manager
Describe your role as an Area Manager at Unifrog
Every day is different and there is no 'normal' or 'repetitive' week. As I cover north west England, north and mid Wales, Northern Ireland and the Isle of Man, I travel quite a bit. One day I can be over in Enniskillen in Northern Ireland, the next in Greater Manchester (take a look at a map of the UK - it's some distance)!
There's no normal 9-5. Some days I'm on the road at 5.30am or catching a flight over to Belfast at 6am and not walking back through the front door until gone 9pm later that night! Whilst demanding and often very tiring, it's also exciting, rewarding and most importantly, doesn't bore me to death! I enjoy the role as it keeps me on my toes and at the end of every day I feel like I've achieved something.
You've lived in Anglesey all your life, tell us your favourite fact or thing about what it's like to live there?
Bar two brief stints elsewhere yes, I've lived in Anglesey my whole life! When I was 16, I left Anglesey and joined the British Army as an Electronic Avionics Technician in Harrogate. But it wasn't what I anticipated and I left after 12 months to go back into education and work towards university.
Anglesey really is such a beautiful place to live and many of the teachers I meet love coming over to Anglesey in the summer! What I most love about it is it's a great place to bring up my daughter (who's now two)! It has everything - from my family and friends, beautiful beaches, countryside, the mountains of Snowdonia just round the corner and the cities of Liverpool and Chester within a short commute.
What made you want to work at Unifrog?
So, it's quite an interesting story. I was at home (set the scene) doing some work when I got a call from a friend (and now colleague Tom) asking if I was interested in speaking with his boss regarding a possible job. Out of interest I accepted and Alex, Unifrog's co-founder, set up a Skype call to show me what exactly Unifrog was.
At the end of the call, Alex asked me for an answer. In my mind I already knew I was going to say yes but I didn't want to look overly keen and asked for a few days to consider his offer. The next day, I called Alex to accept and made my way to the old office in Bethnal Green on the Saturday afternoon to start training for the following week - dedication!
Seeing how fantastic Unifrog is for supporting kids to make the right choice, to really broadening their horizons and how they can make their aspirations a reality is what sold the job to me. When I joined the army, I wasn't aware of half the options available to me. I made a naïve decision at 15 without really considering all my options. So you could say what made me want to work for Unifrog is the fantastic product, Alex and Coralie's vision and my own experiences from having made uninformed decisions!
What do you do to unwind?
I love spending time with my beautiful daughter Raya and dog Baxter (yes, named after the dog in Anchorman!), whether it's family days out or just a walk with a pit stop to the park. A simple walk is the best thing ever, with Raya jumping up and down in muddy puddles (all parents will be able to relate). Other than spending time with family, I'll have the occasional day out with friends watching football - from the lunch time kick-off to the evening kick-off and every match in between!
Michelle Butterworth, Content Creator and Project Manager
What do you like most about your role at Unifrog?
I love that I get to learn about so many things. When researching for a new Know-how guide or Subjects library profile, I'll be looking for answers to questions like 'what's the difference between ophthalmics and optometry?', 'why study in Canada?', or 'what causes anxiety?' Discovering lots of interesting facts is definitely a perk of the role!
How do you make sure you keep in touch with the team when you're working remotely?
I think Slack has definitely been a game changer - it makes it so easy to brainstorm new ideas or get advice from someone in the team, so I try to use it pretty often. It's also nice to take part in things like the online yoga class.
What's the best concert you've ever been to?
The best concert would have to be Rammstein. They really know how to entertain a crowd and their pyrotechnics are mind-blowing.
What's at the top of your bucket list?
I've always wanted to try cliff jumping. And if I could do it off Haew Suwat - the waterfall featured in The Beach - that would be a huge bonus!
​
Mike Prokopiou, Video Lead & Project Manager
What made you want to work at Unifrog?
Unifrog seemed like an exciting place to work (and it is)! Everyone I spoke with before I joined was lovely, seemed excited about working here and was full of ideas. I liked the idea of being a part of a growing company and trying something a bit different to working in sport TV production, which is what I was working on before.
What's your favourite tool on the platform, and why?
For my favourite tool, I'd have to say something video related... the Careers library, because it's introduced me to jobs I had no idea even existed.
If you could live anywhere in the world, where would it be?
This is a very tough question. My instant answer would be Wanaka in New Zealand as it's so beautiful there. But I'd also love to live in Asia for a year or so, because I love the foods and cultures... so maybe in Tokyo or Seoul.
What would your perfect weekend look like?
My perfect weekend would be going to Old Trafford to see Manchester United play (viva Ronaldo), followed by dinner with friends. Then I'd have a chilled Sunday drinking coffee.
Mitchell Purnell, Area Manager
Why did you decide to work for Unifrog?
When I first researched Unifrog, I was drawn to the idea of working for a social enterprise with a product that I could be genuinely passionate about. Then I saw Unifrog's apprenticeship content and search tool in action, which completely sealed the deal! When I dropped out of college, I spent weeks trying to search for, and get my head around, apprenticeships. Something I hear a lot is 'I wish this existed when I was in school', which is exactly what I was thinking when I decided to work for Unifrog!
Describe your role
My main priority is making sure my amazing partners in the South West utilise all that Unifrog has to offer; not only with platform usage, but also by taking full advantage of our wider network. There really is no such thing as a standard day or week. I run staff trainings, strategy meetings, best-practice CPDs, conference talks/workshops and network meetings. Essentially, I do whatever is required to make sure staff are supported in providing students with the very best careers education, across the South West.
A lot of miles, a few too many fast food restaurants (for the free Wi-Fi) and plenty of work, but I love it.
What's the best thing about working with teachers?
The best thing has to be when you mention something that sparks their interest and sends them off on a passion-fuelled rant. No matter how tired they may be at the end of a long working day, one trigger conversation shows just how passionate they are about what they do, and why they do it. Plus, they're super competitive if chocolate is on the line!
Please tell us two truths and one lie about yourself.
I represented Bristol in the UK Junior Tiddlywinks Championships 2002 and came a very respectable 3rd place.
I hit my peak of stardom at the age of 12, when I directed an award-winning series of short films based on climate change.
I had chicken pox three times as a child, much to the disbelief of my local GP.
​
Natalie Smith, Account Manager
Describe your role
My role as an Account Manager is to support schools in making the most of the Unifrog platform! This includes meeting with teachers and careers staff, running training sessions and putting together Year Plans.
What do you like most about your role?
Definitely meeting with my schools (albeit virtually!). Everyone is always so lovely and a personal highlight is when they come out with 'wow, I didn't know it could do that!' Unifrog always brings out lots of brand new tools and resources, which is great to be able to share with my schools as I know it will make their lives much easier! The team at Unifrog is also unbeatable.
If you could live anywhere in the world, where would it be?
Definitely New Zealand! I went travelling there last year (just before Covid-19 hit) and I just fell in love with the place. The views are incredible and the people are so friendly. It helps that I wouldn't have to learn a new language too, as that isn't my strong point!
What was your favorite subject in school and why?
I think your favourite subject in school tends to just be determined by your favourite teacher! I did really enjoy Geography though, and ended up studying Physical Geography at University. The field trips were definitely a big perk but I can't say that what I've learnt about rocks has been much use when working with schools!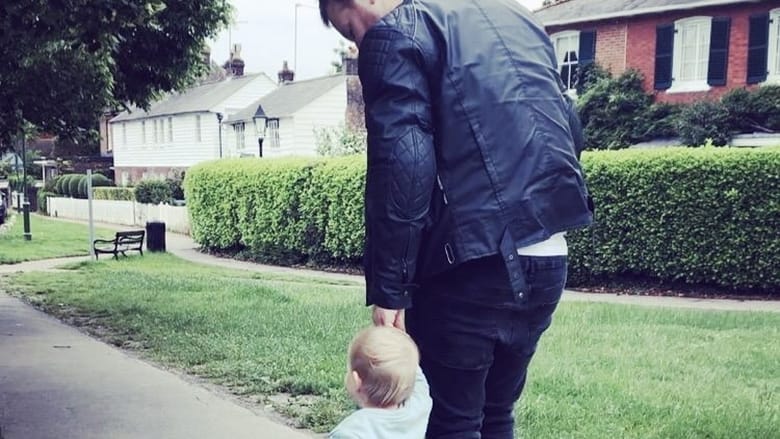 Paul Osbiston, Account Manager
What motivates you to work at Unifrog?
Probably my own experience from school. I can't say there was much, if any, focus on careers. That lack of guidance left me to make my own decision, which, at 16, was to (unsuccessfully) be a rock star. I don't regret my choices, but it definitely highlights the need for comprehensive career guidance.
What do you like the most about your role?
All the lovely teachers and career staff I speak to each day. It's also about the people I work with. I've never worked for an organisation where every single member of staff is that amazing.
What's your favourite sandwich?
There's no straightforward answer here, but there is a story. When I was a student I would turn a week's food shop into one sandwich; I called it a Meat Wallet! It sounds disgusting, but it's not, and now you're going to make one. Get yourself a tiger loaf (unsliced), cut in half then hollow out so you're left with a large pocket (wallet) of bread. Now fill your wallet with a selection of deli meats, bacon, cheeses, and dressing. You can add a side salad if you want the low-cal version. When it's about the size of your head, it's ready to eat. You're welcome.
Would you rather be able to teleport or time travel? Why?
Oh time travel, without question. I have a moderate passion for medieval history. I think it stems from a childhood fantasy of being a knight and living in a castle, which I would still love to do. Bodiam would be a good choice, but it would need some modern additions like a pool and underground motorbike parking. I'd probably add the dungeon back in, just in case.
​
Rachel David, Marketing & Events Assistant
Describe your role
In a nutshell, my role is currently split across social media marketing, and graphic design for the posters and promotions of Unifrog's events and fairs. I'm also helping set those up, along with our themed weeks.
What do you like most about your role (so far)?
I really enjoy being creative, so that element of the graphic design is really fun. Playing an important role in making sure the events run smoothly and seeing them pan out successfully feels good too.
If you could live anywhere in the world, where would it be?
I don't think I've been to enough places to know the answer to this just yet! But I lived in Barcelona as part of my year abroad whilst I was studying Spanish at university, so I'd love to live there again. The combination of city and beach, and its mixture of old and modern architecture, was the perfect balance.
What's your favourite way to spend a day off?
I'd like a bit of pampering! Getting my hair and nails done would be nice. And it sounds really boring, but I also enjoy errands! Tidying my room, doing my laundry… I find I neglect these things after work. So having a day to tick these things off the list is really satisfying.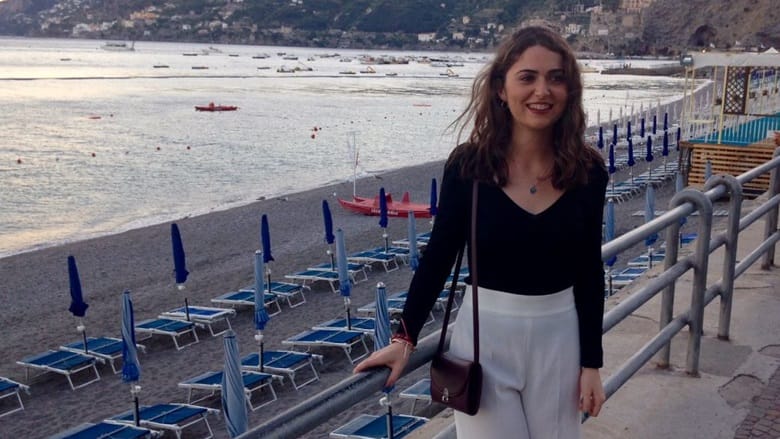 Rebecca Scannapieco, Account Manager
What made you apply to work at Unifrog?
Without wanting to sound clichéd, I knew I would have loved to have access to the platform when I was at school. It makes thinking about and researching your next destination so much easier as a student! Having gained more knowledge of the platform, I know given the chance again, I would have applied to some universities abroad. I also love that the platform has made such a big impact for students and knowing that I'm a part of that is so rewarding.
What did you learn working at Zara that has helped you in this role?
Working in Zara in my previous job definitely taught me a few things! I was able to improve on my communication skills, multi-tasking and also learning new systems and programmes. Unifrog is constantly changing and so being able to learn a new system quickly comes in handy. And working in an office means I can finally put all my clothes that I have accumulated whilst working at Zara to good use!
What's your favourite thing about talking to teachers every day?
Whether I'm onboarding new schools, helping teachers with admin-related queries or guiding them through how to use the platform, it's always really satisfying to know that we are making their job that little bit easier! We tend to speak with the same teachers on a regular basis which is really nice as it makes it more personal. It's always nice to have a chat with teachers about how they're getting on, and it's fun to speak with teachers from all over the UK - I especially love a Geordie accent!
Which actor would you get to play you in the movie of your life and why?
Anna Kendrick because like her, my singing is Pitch Perfect (although Samar might say otherwise).
​
Rida Wasim, Junior Data Analyst
What made you want to work for Unifrog?
I wanted to work at Unifrog since it was really clear it has a strong social mission. I've always been passionate about working with children and making an impact on their lives, whether it be directly or indirectly. I also had a drive for doing something within the field of data, having done my degree in Geography and Spatial Data Science. I thought it would be impossible to find a role that could combine the two together and still upkeep the company's mission – but then I came across Unifrog! I knew I would love working here and the passion to make a difference and in what they do individually can definitely be seen by everyone who works here, so I'm glad I'm here!

What's your favourite Unifrog tool and why?
I love the profile tools, like the Personality profile. I am definitely a quiz person and enjoy using them to see what kind of person I am. Even though I know they're not a full representation of me, they end up being accurate! Of course, the Personality profile guessed me correctly as an INFP. I am glad students have access to this, because when I was going through the university application process, it would have helped me know myself better and know what I could potentially enjoy if I had no clue otherwise.

If you could live anywhere in the world, where would it be?
I can't decide between two places in the world. In my teens, I really wanted to live in South Korea in the future and that dream partially came true when I did summer school over there. It felt like a different world – advanced technology, diverse culture, scenic nature, and great food. The only thing I couldn't stand was the heat. More recently I've visited countries in Scandinavia and similarly to South Korea, it had great city life but also amazing scenery – but definitely wasn't as hot! Maybe I could split my time across the world: six months in Norway and six months in South Korea!

What's your favourite thing to do outside work?
I love cycling and going on walks. I often go around the Olympic Park as it's got such great views to cycle or walk to around sunset time, and it's a great stress reliever in general. I also love travelling - I have my university degree to thank, for taking us on such awesome field trips, and my dad for nurturing my love to travel!
Rob Cannings, International Area Manager
What does a day in the life of an International Area Manager look like?
As International Area Manager for Europe, my day is usually one of two very different scenes. I spend about 7-10 days of every month visiting a different European country, or sometimes two! During these trips, I get to visit our fantastic partner schools and help them integrate Unifrog into their curricula, train staff how to use the platform and most excitingly introduce it to students. I also get to visit schools that we don't yet work with to demonstrate the ways in which Unifrog could help them deliver better careers and higher education guidance for their students. When I'm back at Unifrog HQ here in London, I do all of the above remotely via video chat, recharge and put the finishing touches on the plan for the next trip.
How has your previous experience in Higher Education helped you in this role?
Five years of working in careers and employability services across three different London universities was a great foundation for understanding the environment I now find myself in. In particular, my role at The London School of Economics gave me the opportunity to work very closely with graduate employers from a variety of sectors. This means that I've been involved with helping to shape the future of young people - in one form or another - for a long time now. On a more day to day level, when you've run countless presentations, seminars, and workshops for 18-21 year olds, standing up in front of students a couple of years younger to do something similar doesn't faze you quite as much as it could!
What's the best thing about travelling as part of your job?
Forgive me for the obvious answer, but as a massive foodie I can't look beyond that. So far in 2020 I've been lucky enough to enjoy ravioli in Rome, gyros in Greece, pastéis de nata in Portugal, and bacalao in Barcelona - do I get extra points for alliteration? - and that's just off the top of my head. As a big football fan, I've also tried to take in a game as often as possible too. I've got to games at the San Siro, Estádio José Alvalade and El Madrigal so far this season. Bonus points for anyone who can name the teams that play in those venues without resorting to Google!
What was the first album you bought?
Being the youngest of four children, I was lucky enough to get some excellent hand-me-down cassettes - yes I was born in the 80s! - from a very young age. I vividly remember dancing around my room to The Prodigy when I was way too young to process the lyrics... I can't remember the first album I bought, but the very first piece of music was a single - Cotton Eye Joe, by Rednex. Thankfully, it didn't lead to me buying whatever God-forsaken album that song featured on. For some extra narrative detail, I also remember that during the trip to Our Price in Torquay to pick up that particular banger, my sister purchased the far more respectable Gangsta's Paradise by Coolio. For shame.
​
Robyn Smith, Head of UK Account Management
What does a day in the life of an Account Manager look like?
It's tricky to say what an average day looks like as an Account Manager; no two are remotely the same! Some days I'll be travelling from my home in Newcastle upon Tyne far and wide to Glasgow, York or the Lake District; other days I'm at home with my Jack Russell Terrier Elsie, taking calls and answering emails. Occasionally you'll find me at Unifrog HQ in London.
How has your previous experience as a Barber helped you in this role?
Surprisingly, not many teachers are up for having their hair cut while I'm delivering a Unifrog training session. In all seriousness, my experience as a Barber and business owner has taught me how to really listen to the needs of clients, and come up with solutions to long-suffered and common challenges.
As well as being an Account Manager, you look after the Resources library. Which is your favourite resource?
I really love coming up with new and engaging ways for schools and colleges to deliver their careers education, so creating lesson plans for our Resources library is perfect for me. I built much of my previous career as a Barber on networking, and I believe the art of conversation is an important skill to possess, so it would have to be the 'World of work: Professional networking' resource. It's suitable for all students and gives many students an experience they haven't had before.
What does your ideal weekend look like?
I'd start at the gym then grab a coffee to catch up with friends. Then I'd join my husband, daughter and dog on a walk along one of the beautiful Northumberland beaches (Bamburgh is my favourite), before coming back to Newcastle for a Sunday roast with our whole family.
Sadie Hollins, Content Creator & Project Manager
What motivates you to work at Unifrog?
I am a huge fan of all the different areas of work that Unifrog does. The Know-how library guides cover so many different topics – I haven't seen anything else like it! The Apprenticeship and University search tools really help students to navigate finding the best opportunity for them. I love being a part of something that puts students at the centre of what they do, and is always trying to think about how to better support students (and teachers!).
How has your background in international education helped you in this role?
Prior to working at Unifrog I worked as a university guidance counselor at an international school in Thailand. I was involved in supporting students' with their uni research and applications to places all over the world, including the UK, US, Canada, the Netherlands, South Korea, Hong Kong, Japan, Australia, New Zealand, and Thailand! Applying to universities can be so vastly different in different countries, and I think that working with students has given me a better understanding of what students are looking for, what information they find difficult to find, and what areas they need more support in.
If you were stranded on a desert island, what three items would you want with you and why?
Oooh… I'd probably take chocolate, a cooler to put the chocolate in (to keep my spirits up!), and a flashlight because I don't like the dark!
What's top of your bucket list?
I'd love to see The Tiger's Nest temple in Bhutan or road trip across Canada with my wife and two dogs in a campervan!

​
Sheri Barnett, Head of Student Content
Describe your role
My role is Head of Student Content, which means I plan and create content for our Careers, Subjects, and Know-how libraries, I edit content written by the rest of the student content team, and I look after the student content team. I also work with experts, universities, and employers to make sure that what we produce is as helpful as possible, and come up with new projects for the team to work on. In a nutshell, it's a lot of talking, a lot of reading, and a lot of writing - three of my favourite things!

What's the most surprising thing you've learnt working at Unifrog?

The most surprising thing I've learnt working at Unifrog is just how many incredible opportunities there are out there! When I was at school I didn't know I could study in Switzerland, complete a degree in Adventure Filmmaking, or take part in a school leaver programme and study later. There is such a wealth of opportunities out there and - having not had anything like Unifrog growing up - it surprises me every time I find something new and exciting on the platform!

What would your perfect weekend look like?
My perfect weekend would definitely be a city break somewhere in Europe. I love travelling and would quite happily spend every weekend for the rest of eternity exploring new places with my friends or my family.

What's your favourite pizza?
It's controversial! I love a vegetable pizza with extra chillies and pineapple! I also can't eat dairy and hate vegan cheese, so I go cheeseless... at least no one wants to share with me and I get it all to myself!

Simran Pooni, New Partnerships Lead
What do you enjoy most about working at Unifrog?
Firstly, the platform itself is amazing and has helped thousands of students and teachers with all things careers. As part of my role here at Unifrog, I get to speak to schools and colleges across the UK and explain how the platform can benefit them. It's a great feeling when they decide to come on board. The second thing I enjoy most is how supportive the team are - everyone always takes the time to celebrate each other's successes.
How would you describe working in the office?
Working in the office is great! It's sociable but also definitely a productive environment where sometimes we stick our headphones in and power through all our work. The office has lots of plants and a very colourful mural full of frogs that was painted by Alex and Coralie. There's around 12 of us who work in the London office Monday - Friday and it's always a pleasure when other members of the team pop in for the day.
What have you ticked off your bucket list so far?
The first thing that I ticked off was Skydiving. I've also been on the fastest roller coaster in the world (Formula Rossa in Abu Dhabi) and bungee jumped in Whistler, Canada!
If you could live anywhere in the world, where would you choose and why?
Mexico - it's been my favourite place I've travelled to so far - the people are so lovely and friendly. I live for the sunny weather, Mexican food and I'm obsessed with Reggaeton music.
​
Stephen Rodwell, Operations and Finance Manager
Describe your role as Operations and Finance Manager at Unifrog
I'm responsible for the smooth running of the office from day-to-day, whether that means coordinating our programme of UK and international conferences or helping to improve our team workspace. I also manage the company's finances along with Libbie, our Operations and Finance Assistant. Essentially, this means I keep a close eye on our income and expenditure and try to save money wherever possible! If I ever find a spare moment (rare!), I really enjoy getting involved in other parts of what Unifrog do, whether that's writing and editing for the Unifrog platform or getting stuck into data research.
When you first started, what struck you about Unifrog?
It's a great team of people who support one another and celebrate each other's successes; everyone is eager to help and push the platform forward. It's also inspiring that we have a group of experts in Higher Education and post-16 opportunities who are helping lead the discussion about the future of young people.
As a former teacher, why do you think that what Unifrog is doing is important?
Although I worked in a primary school, I know that my Year 1 pupils would still have loved exploring the different careers on the platform! Every year my class made a 'Book of Dreams' where each child drew a picture of what they wanted to be when they were older. In a way, Unifrog is just a grown-up extension of that! Even from a young age, giving children ideas about what careers are out there is hugely important in shaping their aspirations.
If you were stranded on a desert island, what three items would you want with you and why?
A corner sofa, the Beatles discography, and a lifetime supply of cheese. What more could you want?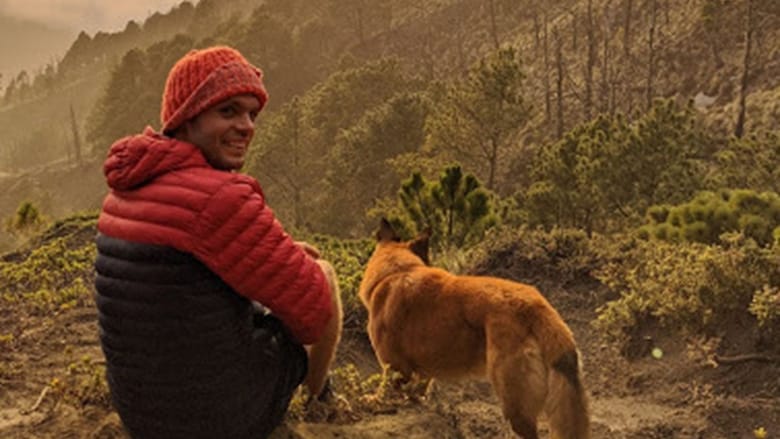 Tom Yeaman, Data and CRM Manager
When are you at your happiest?
I'm at my happiest when I'm solving problems. Luckily, I get to do this everyday at Unifrog! My role requires me to get stuck into a wide range of problems; I've spent time analysing Unifrog usage data to help inform the training we run with partner schools, as well as building automated processes to keep our accountancy software and sales data synchronised. It's really exciting to be a part of an agile, social mission driven company, where I have greater responsibility and influence on how we achieve our goals.
What motivates you about your role?
Everyday, we help students make better decisions on their futures - which is pretty motivating in and of itself. Also, I find I'm at my most motivated when I'm working as part of a team. Due to the ambition of the company I'm often collaborating with smart colleagues to solve big problems - meaning I start each day with a spring in my step!
What is your favourite hobby?
That's a difficult one, but I would say trekking. My wife and I have trekked across Spain, in the Himalayas & through the Costa Rican jungle in the last few years. My legs are still recovering from a 25km walk to Kew Gardens, maybe more of an urban hike than a trek! PS: my photo was taken near the summit of Acatenango, a dormant volcano in Guatemala.
If you had a superpower, what would it be?
Being able to fly would be hard to beat. It would be enormously satisfying to be able to shave five minutes off my trip to Tesco (oh, and travel the world of course!)
​
Vikki Garner, Partnerships Director (UK and Employers)
What do you find most exciting about working at Unifrog?
So many things! I would probably have to say new developments and the impact they have on schools and students. It's super exciting when you've had an idea yourself, or heard about one from the team or a partner school, and then see it develop into a new tool. We always ask a few of our partners to test out new tools, and seeing their reactions as they realise how much of a difference it's going to make to either their CEIAG tracking and management, or opportunities for their students, is equally as exciting as the initial idea.
What part of your job do you find most challenging?
I support the Account Management and Partner Success Teams, and with 2,000 partners to look after, every day is super busy. Our partners provide us with amazing feedback, from how fantastic they're finding the platform to the barriers they have in delivering CEIAG in their schools. I love hearing about these barriers and helping the teams to support our partners to overcome them. I suppose you could say it's our partner schools' challenges that become mine, and I love the challenge of finding the perfect solution.
Has previous experience as a teacher served you well in this role?
Absolutely! I've had first hand experience of the difficulties when it comes to planning and delivering careers, whether that be a shortage of allocated time, making sure students have the right information for their chosen pathway, trying to create lessons which capture their imagination and raise their aspirations, the list goes on! But it's these experiences - those of the team and of our partner schools - that drive everything we do at Unifrog.
If you could meet any historical figure, who would it be and why?
This is a tricky one. I'd have to say Rosa Parks. I'd love to go back in time to watch her make a stand against racism through simply sitting on a bus. That one act sent shockwaves through America and earned her the title of 'the first lady of civil rights'. A phenomenal woman!
Yoanne Tong, International Partnerships Lead (Europe & Americas)
How has your background in teaching helped you in this role?
Teaching involves a lot of explaining new concepts, breaking down complex information and answering questions - which is basically what I do in my PSL role at Unifrog! My background is in TEFL in private language institutions, which means that keeping all students happy and satisfied was really important - likewise we want to make sure our partner schools feel 100% supported. Finally being on the international team means that I get to work with schools around the world - which is fantastic because in the TEFL world, I was used to working with teachers and students from everywhere!
How do you make sure you keep in touch with the rest of the team when you're working remotely?
It's pretty normal for us as everybody on the team lives in different cities/countries! The most difficult part has been the time difference, but we have weekly team meetings, regular socials, and I meet with Arash every day to catch-up. I also love Unifrog's modern approach to working - we are just trusted to get on with it!
When you were younger, what did you want to be when you grew up?
I was never obsessed with one particular job - I think I wanted to be something different every week. A pop star, a vet, a teacher, a lawyer... I was quite a restless child and always wanted to learn, do, try something new!
When I was a teenager, my secret dream job was to be a travel writer or journalist - it kind of still is! I really enjoy the process of writing, especially sharing experiences or giving advice, and I find it very therapeutic.
Where is the best place you've travelled to, and why is it your favourite?
Can I have a top three!? I did a three-week trek in the Himalayas a few years ago, and it was just incredible to wake up in the Himalayas and walk five or six hours every day, passing through the tiny mountain villages and the occasional Buddhist monastery! In the same trip, I also spent three months in India, which was just an insane, chaotic experience - the colours, the noise, the smells… everything was a real shock to the system, and the people are so unbelievably kind!
Finally, of course, Colombia - not just because I lived there for four years! You will never find such an amazing range of landscapes in one country - from crystalline Caribbean beaches and arid desert, to dense Amazon rainforest and coastal Pacific jungle, to Andean mountains and páramos… it's a nature-lover's paradise!
​
Zoe Mackenzie, HR and Operations Lead
What made you want to work at Unifrog?
One of the reasons I was keen to work at Unifrog was its social mission. It's quite important to me that my workplace has a wider social purpose. When I had my interview, the staff on the panel were just so friendly too - and having now met the team at the Team Day, I can confirm this goes for everyone else!
What's your favourite thing about your role?
The best part of my role is the fact that it's so people-facing. I really enjoy getting to know people, so it's great to have a role where I get the chance to chat to the whole team, learn what they do, and work out how best I can support them.
If you could live anywhere in the world, where would it be?
I think I'd choose to live in Tasmania. In 2020, before the pandemic hit, I was travelling around Australia with a friend and we stayed with a family who lived there. It's the most beautiful place you can imagine. There's loads of independent art going on, vineyards, beaches, and freshly grown food. The family I was staying with had a boat, so we even went lobster fishing, caught a lobster, and ate it on the same day!
The one caveat is that I'd have to bring all my family and friends with me, as Tasmania's a bit of a distance from the UK!
Which reality TV programme do you think you'd win, and why?
I'm not sure if this counts as reality TV, but I definitely think I could win Pointless. I always used to watch it when I was coming home from school, so I've got a good knowledge of the different categories that might come up. You have to do it in pairs, so I'd go with my housemate - she's got the pop culture sorted, and I studied geography at university. So if the right categories came up, I reckon we could win!