Unifrog is growing
Be part of something epic!
Our mission is to level the playing field when it comes to young people finding the best opportunities for them, and it's the driving force behind everything that we do.
If you are fired up by our mission, and want to work hard to help us grow, we would love to hear from you.
Open opportunities
Yikes we don't have any open opportunities at the moment. However, we always want to hear from brilliant people who are fired up about our mission.
If this is you, please get in touch! info@unifrog.org
Why join us?
Hear from our Co-Founders...
Our vision
Unifrog is a profit-making organisation. What's special is that our product helps young people - so as we grow, we do more good.
We have ambitious growth targets and everyone on the team plays their role in achieving this growth: our team is at the heart of our business and is integral to our success. We pride ourselves on recruiting talented people who share our passion for our mission. We promise to foster a culture of hard work, openness, happiness and innovation, and we commit to helping every individual learn and grow so that they reach their full potential.
Want the full story of where we've come from and where we're going? Read the interview with founders Alex and Coralie here.
Our mission
Our mission is to level the playing field when it comes to young people finding the best opportunities for them. It's the driving force behind everything that we do, and we want to hire people who are fired up by it.
We are working to achieve our mission by building a one-stop-shop for destinations, where young people can explore, find and apply successfully for their best next step after school, wherever it is in the world.
We are a profit-making organisation but we put having a positive social impact before anything else.
Our team
Our culture is professional but informal. We all work hard and are passionate about our role in the company, and about helping the company grow. We work on projects together, and have close line manager <> line managee relationships.
We celebrate each other's successes, we support each other, we aren't afraid to be wrong or to fail, and we promote good ideas wherever they come from.
Who are we? Go to profiles of some of our team.
How we work
We have a culture of innovation right across the team. Good ideas can come from anywhere, whether they are about cool new things on the platform or ways we can improve how we work.
We believe in open communication. If something needs to change, we say it right away.
Every person in Unifrog plays a role in helping us reach our ambitious growth targets. Everyone has clear responsibilities, but also everyone is encouraged to take on new challenges. We will always make space for you to grow with the company, and we have a general policy of promoting from within.
Social and belonging
We believe in the power of diversity in all its forms, including in terms of culture, socio-economic background, education, religion, age, race, gender, sexual orientation, personality and life experiences.
We have company meetings 4 times a year to celebrate our successes, and so that everyone is kept up to date with the work we are all doing. Sessions at these meetings are interactive and can be led by any member of the team.
As a company, we make time to get to know each other and have fun together! All our team meetings include a social aspect, and we have 3 volunteer social secretaries who do year-long stints managing our socials.
Learning and development
Professional development is at the core of our performance review process. Everyone in the company defines their own 6 month objectives; their line manager and the rest of the organisation tries to support them to reach these objectives.
Everyone in the company has an annual training budget. Each person decides how to spend their budget, supported by their line manager.
Anyone in the team can volunteer to become a 'Champion' in a specific area - they get an additional training budget, and the chance to lead training sessions for the whole team.
Progression
We have a strong record of promoting from within.
For example, all the managers at Unifrog started in junior roles and have been promoted to their current positions (and in fact our CEO started as a sales rep, then managed the sales team, then became managing director, and then CEO).
Management is not the only route for progression. To take on more responsibility and get paid more, people develop specialisms within their role, and lead on long-term projects, specific parts of the platform, and the way we deliver our services.
Where we work
Since Unifrog started we have had a London HQ, with the majority of the team working remotely, spread around the UK and the world. We are big believers in open and regular communication, so wherever we are, we talk often.
If you're based in London you'll work flexibly, spending at least a few days each week in our lovely office. If you're based outside London you're very welcome to work from our office when you're in town, and you'll come to our in-person Team Days 4 times per year.
What
matters to me
Unifroggers on working at Unifrog
Inclusion and diversity
Samar Shah

, Head of UK Partner Success
To me, diversity and inclusion mean being able to happily coexist in a place where there are people different to you. It also means feeling comfortable enough to be your true self, knowing you aren't being judged or ridiculed for it. I think a big part of it is also creating a sense of belonging so other people feel included and welcome.
At Unifrog, we've created an environment where employees are listened to and our opinions are really considered. We have a really strong sense of belonging here, making it easy to speak to others comfortably if you want to change something, and it's great to be a part of that.
Openness and transparency
Vikki Garner

, Head of UK Partnerships
For me, openness and transparency means having a team of people that can communicate with one another in a clear and honest way. This is important inside the Unifrog team, but also in the way we work with our partner schools. We ask for their feedback, inform them of our plans and of the reasons behind the decisions and developments we make.
It's vital that we do this, because being open and transparent leads to trust between every member of the team and our partner schools. It fosters an environment where we can share our ideas and thoughts, provide constructive feedback, and know that we're respected and supported every step of the way. In this way, we make better and more informed decisions about the direction of the platform and the company.
Social purpose
Freddie Knaggs

, Head of HE Partnerships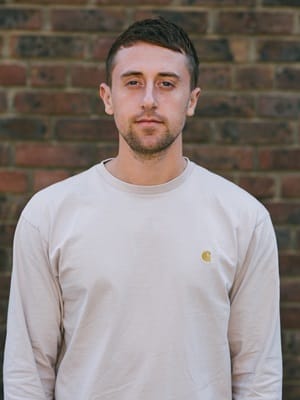 Unifrog's mission is important to every person on the team, and it's what drives all the decisions we make. I'm really proud to be a part of a company that puts its social impact before commercial decisions.
From the very beginning the platform was built in a way that helps each student find the best path for them. Our aim is always to help each student make their own decisions, never to push them towards a particular one - so all career and education pathways on Unifrog are represented and we encourage everyone to take a look at everything. We also just added a new tool which helps students search for things like scholarships and summer schools they are eligible for, and I am excited to work on more things like this in the future!
Building a team
Daniel Keller

, CEO
The biggest challenge is getting the balance of the team right - we want everyone to share a real enthusiasm for our mission as well as certain characteristics we value, but we also want to make sure that across the team we nurture a varied set of skills and a range of strengths. If you can get this right though, it's brilliant!
We have ambitious goals that we can only achieve if everyone on the team has the drive to push us onwards and upwards, so for this reason it's really important to us that Unifrog employees are passionate about our mission. Other important traits include being proactive and innovative, with the ability to take projects forward independently when required. We're also a particularly socially conscious group of people, and having integrity and being supportive with a community spirit is key. If someone has these characteristics and values, together with the expertise required for a specific role, they'll be a great fit!
Some of our benefits
Wellbeing
Generous holiday (28 plus bank holidays)
Additional holiday after 4 and 7 years and optional sabbatical at 10 years
Flexibility to take leave for religious holidays
Early finish Fridays
Team social events through the year
Healthplan including prescription, dental, physio, optical
Health and fitness allowance
Home office equipment contributions
Cyclescheme
Limits on out-of-hours contact
Mental health support and Employee Assistance Programme
Weekly yoga
Your world
Flexible working
Annual company performance bonus
Long-term service bonuses
Personal annual training budget
Regular salary reviews
Transparent salary bands
5% employer pension contributions
Travel expenses including car allowance if relevant
Interest free loan for travel card or season ticket
Payroll giving
'Save the Planet' volunteering day each year
Carbon offset for travel
Parental
Enhanced maternity pay: 100% of normal pay for 16 weeks
Enhanced paternity pay: 100% of normal pay for 6 weeks
£250 antenatal classes voucher
Extra leave for first 12 weeks after return
5 days emergency leave for children under 2
Payroll nursery scheme
London office
Tropical themed office in plush new building
Regular socials
Free breakfast
Free fruit and milk (dairy and non-dairy)
On-site bicycle storage and showers
Pet friendly
Unifrog essentials
Some of our internal policies
that we
really care about
Sustainability
Everyone at Unifrog gets one 'save the planet' volunteering day per year to take part in sustainable action (e.g. conservation work at the London Wetland Centre).
We fund rewilding and reforestation projects run by Mossy Earth - a team that works to restore nature and fight climate change. For example, we have funded a kelp restoration trial in Portugal.
We are part-funding a documentary called 'Eat More Trees' (planned release in 2024), which is about how we can grow Food Forests to both save the world's soil, and provide more sustainable food. Check out the project here.
Every year we run 'Save the Planet' week across our 3,000+ partner schools and colleges. Check out what we did most recently here.
We offset flights and miles driven for work using carbon offset programmes. You can see our impact on Ecologi, here. We also keep track of how many tonnes of carbon our work activities release into the atmosphere each year, and we review how we can reduce this number for the next year, for example by doing more virtual meetings.
"I've felt the team's culture of innovation right from my first day. Our platform is continually developing!"
Ben Mahoney, Area Manager
"We have a really strong sense of belonging here."
Samar Shah, Head of UK Partner Success
"I'm really proud to be a part of a company that puts its social impact ahead of commercial decisions."
Freddie Knaggs, Head of HE Partnerships
"There is so much support for each other, and shared passion behind what we do."
Nicola Twiston Davies, Account Manager
"Stellar communication is key here at Unifrog! We are to the point, speedy, and - more than you'd imagine - full of joy and humour! "
Anna Barker, Area Manager
"Line-managers help you to have maximum impact in your role, and also support you to reach your longer-term career goals."
Tom Haywood-Pope, UK Head of Sales & Delivery
"We're continually improving because we're good at listening to the brilliant ideas of our partner schools and each other."
Hayley Young, Operations Manager
Talk to us!
We want to hire talented people who share our mission, regardless of their background.
If you have any questions at all please get in touch:
Call us on +4420 3372 5991. Email Mhairi for general questions, and Hannah or Farhana for anything related to diversity.
Mhairi Drysdale
Recruitment Lead
UK and International
Hannah White
International Partnerships Lead (Middle East and Africa)
UK Diversity Champion
Farhana Somani
International Area Manager - Asia
International Diversity Champion