Bangor University: What it's really like
Find out about Bangor University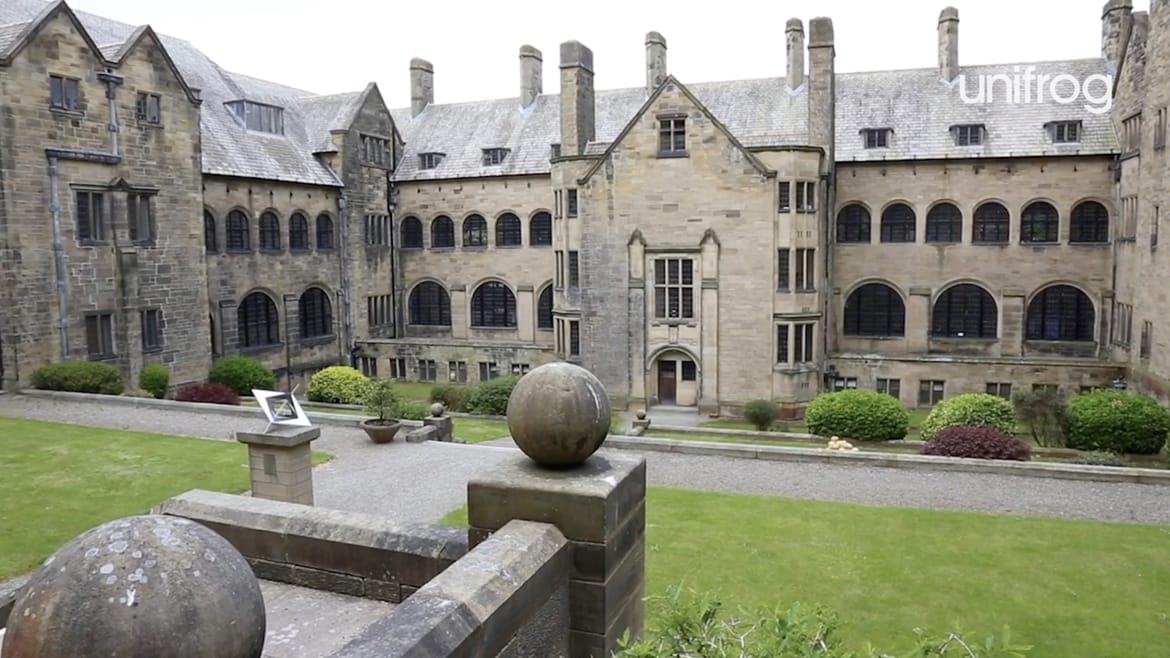 This guide is taken from the Know How Library, a tool on the Unifrog platform. Not sure whether to take the ACT or the SAT? Or how to give the perfect Oxbridge practice interview? The Know How Library is an easily searchable library of 100s of expert guides for both students and teachers, covering every aspect of the progression process. It is included as standard for Unifrog partner schools.
If you want to study at a small university in a scenic location, Bangor University could be the one!
Bangor at a glance:
| | |
| --- | --- |
| Founded | 1884 |
| Locations | Bangor, North Wales, UK |
| Undergraduate course length | Three-four years, with options of adding on a work placement or international experience year on many courses |
| Courses | The university has three colleges: Arts, Humanities and Business; Environmental Sciences and Engineering; and Human Sciences. |
| Students | Approx. 11,000 |
| Great for | Students looking to study at a smaller university in a historic and scenic location, close to the mountains and the sea. |
| Not for | Students looking for a big, bustling city or large campus lifestyle. |
Fred, who works in Bangor's Student Recruitment and Admissions department, explains what student life at the university looks like.
What is Bangor University?
Bangor University is based in the north west of Wales in the UK. The university has about 11,000 students, so as a fairly small university, everyone knows everyone here.
We attract students from around 70 different countries. It's also a truly bilingual university, as you can study over 700 modules in Welsh here; over 70% of our staff have Welsh language skills.
The university is over 100 years old, so it's full of historic buildings. It's close to the sea, so there are beaches nearby, and beautiful mountains behind us.
Bangor is renowned for its natural sciences, so this includes subjects like climate change and sustainability; but it's also well-known for its world-leading research in other subjects too.
Why apply to Bangor?
Bangor is such a friendly university, with a personal feel. Because of the uni's size and location, you're not just a number here. This is especially encouraging if you feel anxious about coming to university.
Despite its small size, Bangor is relatively diverse, so it's a welcoming place to come if you're travelling here from abroad.
Who isn't the right fit for Bangor?
If you're after a massive university, Bangor might not be right for you. The average UK university has around 20,000 to 40,000 students, so with a student body of 11,000, we can't compete with some other UK universities, like Leeds or Manchester. But a reason students tend to choose us is because they want the complete opposite!
Any application tips?
At Bangor, we receive thousands of applications and we can't offer a place to everyone. It's important that you make it clear to us why you want to study your chosen subject, and what makes you the right person for the course. We want to see students who have widened their reading around their chosen subject too - not just stuck to what they have learnt in school. Students who can talk about that in a passionate and engaging way are more likely to get an offer.
What's the location like?
Bangor University is located between the mountains and the sea. We have the stunning Snowdonia National Park on one side and the Menai Strait and Anglesey on the other.

There are plenty of good hiking spots nearby and students often enjoy outdoor activities such as paddleboarding, kayaking, surfing and mountain biking.
Bangor is neither a campus university nor a city university - the university itself really is Bangor, so it's located right in the middle of the city. Most of the teaching facilities are about a ten minute walk away from both residential campuses, so you never have to travel far.
What facilities does Bangor have to offer?
Bangor offers world-leading teaching and research, so its facilities live up to that!
There's a research vessel, the Prince Madog, that can be used for marine and ocean science research. There's a botanic garden, which is a beautiful place to visit or to conduct research. Plus, there's a £40 million arts and innovation centre, Pontio, which includes theatres, cinemas and live music.
What is the accommodation like?
If you're a Bangor student, you'll normally live in one of the uni's two student villages, a short walk from the main arts building. These are St Mary's, the smaller of the two; and Ffriddoedd, which is much larger, with a bar and sports centre. Lots of social activities are run from there.

The cost of living in Bangor is relatively cheap - you can get a room for about £140+ a week. That includes all your bills, as well as access to the sports centre, and campus life memberships. We have someone on-site 24-hours a day, and all your lectures are a short walk away.
If you are an undergraduate student, you're guaranteed a room in your first year at one of our residential villages as long as you hold Bangor as your Firm choice, your course is due to start in September, and you apply before the given deadline.
How does Bangor meet the needs of students with different accessibility requirements?
At Bangor, there's an amazing student support team, both centrally and for different departments. They help students manage the transition from school or college, and any challenges they might face here.
The university also offers scholarships and bursaries of up to £3000. The university offers a personal learning plan too if you need additional support, and that includes human support as well as equipment!
Every Bangor student has a personal tutor, so they can help signpost you in the right direction and offer any support you need. Bangor is also a very manageable place to live and study, especially for students with mobility needs or mental health issues, as it's a very small and safe university.
Want to explore more UK universities? Remember, Unifrog's Shortlisting tool can help you put together a list of great potential courses.
Unifrog Insights monthly email
Progression-related teaching materials, and insight from the Unifrog platform, emailed to you once a month.