Employer profile: Edmundson Electrical Ltd (EEL), the UK's largest electrical wholesaler
What it's like to work at the UK's largest electrical wholesaler
This guide is taken from the Know How Library, a tool on the Unifrog platform. Not sure whether to take the ACT or the SAT? Or how to give the perfect Oxbridge practice interview? The Know How Library is an easily searchable library of 100s of expert guides for both students and teachers, covering every aspect of the progression process. It is included as standard for Unifrog partner schools.
Electrical wholesalers supply electrical contractors with products like switches, light fittings, and cables for use when building houses or commercial buildings, but what's it like to work for one? In this guide, you'll learn all about working at Edmundson Electrical Ltd, what apprenticeship opportunities are available, and how to apply.
| | |
| --- | --- |
| Founded | 1888 |
| Locations | Over 300 trading locations across the UK! |
| Employees | Over 4,000 people |
| Sectors | Construction, logistics, operations management, retail and sales, and business |
| Great for | People who like to work with others and develop relationships |
| Not for | People who prefer to work independently and don't enjoy engaging with customers |

David Fielder, who is the Regional Director at Edmundson Electrical Ltd, tells us what it's really like to work for the company.

What does Edmundson Electrical Ltd do?
Edmundson Electrical Ltd (EEL) is a wholesale distributor of electrical installation products. This means that we buy products from leading electrical manufacturers in bulk quantities and supply them in smaller quantities to our customers. We sell products like switches, sockets, cables, fuse boards, and light fittings for use in workplaces and in homes.
Our typical customers are electrical contractors, hospitals, factories, maintenance companies, and schools and colleges.

Where is Edmundson Electrical Ltd based?
Most of our staff work in our branches, what we call our 'profit centres', which are based all across the UK. A typical profit centre location is a small unit on an industrial estate in a main town or city. This building is usually a warehouse where our staff handle customer enquiries and send deliveries to customers locally.
There are also open plan sales offices and meeting rooms at these profit centres for our buying and sales teams. On average we work in teams of ten people and our employees work at these profit centre locations full-time.
We also have our regional offices which are located all across the UK and this is where a lot of our administration work takes place.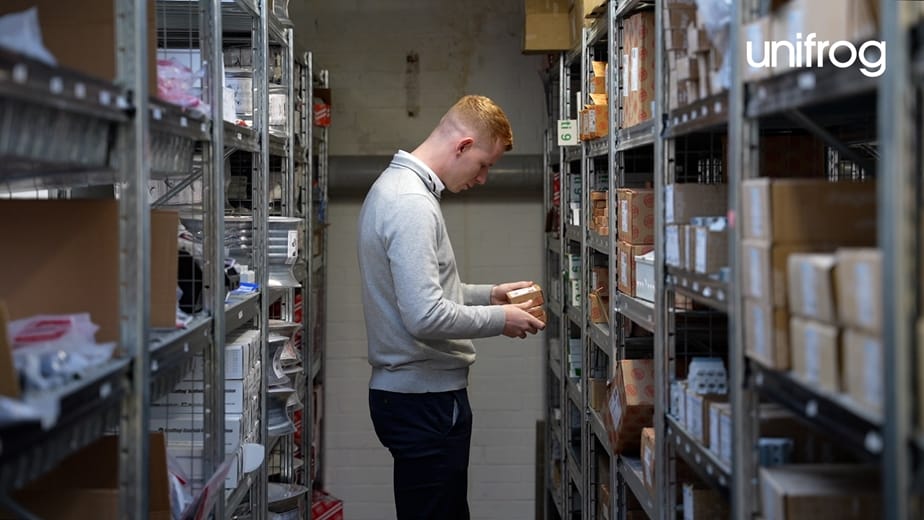 What is Edmundson Electrical Ltd's work environment like?
Our work environment is really social as it's important for us to build genuine and trusting relationships with our clients, and have a good team spirit.
Our sales staff are involved in organising fun events like football and go-karting, or more formal events like dinners and dances for our clients. This gives us a chance to get to know them and for them to get to know us.

How does Edmundson Electrical Ltd meet the needs of employees with additional requirements?
Our company offers an inclusive and diverse work environment. All of our profit centres are wheelchair accessible and this includes having lifts and ramps.
EEL is a big supporter of the Electrical Industries Charity which provides a range of physical, financial, and emotional wellbeing support to people that work in the energy and electrical industries. All of our employees are able to access their services for free, and this includes mental health support, bursaries for people dealing with a serious illness or disability, and dyslexia support.
We also try to be flexible with our working hours where we can.

Who wouldn't be the right fit for Edmundson Electrical Ltd?
Most of our roles involve being social and engaging with our clients. This is very important as customers are more likely to work with people they trust and like. Someone who prefers to work independently and doesn't enjoy engaging with customers wouldn't be a good fit for us.

What are some of the common roles at Edmundson Electrical Ltd?
A common role at EEL is our customer sales staff. Our customer sales staff receive, price, and handle our customer enquiries. They also work to solve any problems that customers have with their orders and so need to be very knowledgeable about the products that we sell.
Our customer sales staff normally work from 8am-5pm Monday to Friday but some profit centres may open earlier or later. For example, our central London profit centres open earlier so that customers can collect products before rush hour! Our customer sales staff earn approximately £26,000-28,000 per year but this depends on the location and experience.
As part of your training at EEL, you'll get the opportunity to learn about the different products, variants of different products, and the manufacturers that we work with so you'll be able to best advise our customers.
How can someone join Edmundson Electrical Ltd at entry-level?
We offer a Level 2 apprenticeship in Electrical Wholesaling as well as a graduate trainee programme. In both of these positions you'll get the chance to learn all the different roles across the business.
You'll start your training in the warehouse where you'll learn about our different products, operating procedures, as well as the market, suppliers, and customers that we're selling our products to. You'll then gain experience in trade counter sales before moving to more office-based roles working with suppliers, and buying products to sell in the profit centre.
A typical day at a profit centre is varied with lots of different tasks to do! Depending on where you are in your training, you could be receiving products from suppliers, putting the products out on the trade counter, picking orders to send to customers, serving customers on the trade counters, receiving order enquiries, meeting with suppliers, or making proactive sales calls or visits to customers.
Pay levels increase with age and this is above the National Minimum Wage thresholds for our Level 2 apprentices, whilst our graduate trainee roles start on approximately £24,000 per year depending on location.
You can apply for these different opportunities directly by contacting the manager of one of our local profit centres, via our company website, or through the Electrical Distributors Association (EDA) apprenticeship scheme.

What are the entry requirements for these roles?
For our Level 2 Apprenticeship in Electrical Wholesaling you'll need a minimum of four GCSEs at grade 4/C or above including English and maths.
For our graduate trainee scheme you'll need a degree in any subject and there's no minimum grade requirement.

What skills does Edmundson Electrical Ltd look for in applicants?
During the application process we look for six main skills. These are reliability, honesty, good communication skills, an ability to handle a variety of tasks, a 'can-do' attitude, and an ability to work well with others.
To help us with assessing candidates, we use the Personal Profile Analysis (PPA) and General Intelligence Assessment (GIA), which candidates complete online. These tests help us assess your behaviour at work and ability to cope with a wide variety of data.
Related Unifrog skills:
Accountability
Communication
Organising / Time management
Resilience / Staying positive
Teamwork
What is a top tip to help an entry level applicant succeed at Edmundson Electrical Ltd?
We look for people with an engaging personality who also have a genuine interest in the role and our company. Prepare for the application by researching our company thoroughly, so you can feel relaxed and confident when going through the different application tasks.

What opportunities are there for progression at Edmundson Electrical Ltd?
There are many opportunities to progress within our company. For example, after a period of training you can move into a customer sales role and then later progress into an external sales, purchasing, or management role.
At the end of your apprenticeship or graduate training it is normally expected that you'll stay on and work for us. After passing your six-month probationary period, you will become a full member of staff, and we hope that you will stay and progress with us!
Good stuff from elsewhere