Employer profile: Schroders, a global investment management company
What it's like to work at a global investment management company
This guide is taken from the Know How Library, a tool on the Unifrog platform. Not sure whether to take the ACT or the SAT? Or how to give the perfect Oxbridge practice interview? The Know How Library is an easily searchable library of 100s of expert guides for both students and teachers, covering every aspect of the progression process. It is included as standard for Unifrog partner schools.
Investment management companies help people and business to investment their money in order to try and make more money, but what's it like to work for one? In this guide, you'll learn all about working at Schroders, what apprenticeship opportunities are available, and how to apply.
| | |
| --- | --- |
| Founded | 1800 |
| Locations | 38 locations around the world which includes offices in the UK, Europe, Asia, the Americas, and Africa |
| Employees | Over 5,000 people worldwide |
| Sectors | Finance, business, computers, marketing, and retail and sales |
| Great for | People who have an interest in working in the finance industry |

Lauren Hillier, who is an Early Careers Recruitment Specialist, tells us what it's really like to work for the company.

What does Schroders do?
Schroders is an investment management company. This essentially means that individuals, charities, pension schemes or businesses give us their money for us to invest. We then try to make them more money than they would have if their money just sat in their bank account over a period of time.

Where is Schroders based?
We have offices in 38 locations around the world. This includes our headquarters in London, our West Sussex office, and offices in Europe, Asia, the Americas, and Africa.
The offices vary in size, with our largest office in the UK home to 2,800 people, and our smaller global offices with as few as 5-15 employees.
We're able to work flexibly which means we can work from home two or three days a week if we'd like to.

What is Schroders' work environment like?
Our offices are a hive of activity, they're exciting places to be. Generally they are open plan and we hot-desk which means that we can use whatever desks are available - the advantage of this is that we don't just sit at our assigned desks every day so we get to meet a lot of different people!
Working hours can depend on the individual, but usually we work from 9am - 5pm, and we make an effort to stick to our working schedule rather than working overtime.
Away from the desk we take the time to enjoy our vibrant office spaces, whether that's soaking up some sun on one of the terrace areas, BBQ lunches in the summer, or enjoying a fitness class at our free on-site gym.


How does Schroders meet the needs of employees with additional requirements?
We support employees who require adjustments throughout the recruitment process and once they are in the role. During the recruitment process, we make adaptations to our standard process which can include extra time for exercises, offering telephone interviews in place of video interviews, and providing interview questions in advance.
We also have workplace adjustments providers who can provide tailored support for individuals where needed.

Who wouldn't be the right fit for Schroders?
The majority, if not all of us, are desk based which doesn't suit everyone. If you don't like the idea of being based in an office and sitting at a desk most of the time, we're probably not the best match for you.

What are some of the most common roles at Schroders?
Our business stretches across areas including investment analysis, research, business development, sales, marketing, and operations. There are a vast array of roles.
As an investment analyst, you'll be involved in researching economic trends to help traders and fund managers make decisions about investments.
In a sales or business development role you'll be building relationships with new clients and supporting the company in winning new business. This could involve making lots of telephone calls and attending client meetings and events.


What are some of the most common entry roles at Schroders?
We take on a number of trainees and apprentices each year, which means you'll be part of a team from day one. On our trainee or apprentice programmes you'll take part in a wide range of development opportunities to equip you with industry accredited qualifications, knowledge, and skills.
A common entry level role at our company is an investment product analyst apprentice. In this role you'll support teams like our emerging market and global teams to help create presentations for our clients. You'll also help produce monthly and quarterly reports for clients and you'll be responsible for keeping relevant databases up-to-date.

How can someone join Schroders at entry level?
We normally recruit apprentices and trainees across all areas of the business. This includes; investment, real estate, data insights, wealth management, technology, operations, client services, marketing, communications, audit, compliance, finance, business consultancy, risk, and tax.
Our apprenticeships are a two-year programme where you'll spend 20% of the week studying for a relevant level 3 or 4 qualification, and the rest of the time gaining relevant work experience.
Our trainee programme is one full year and you'll complete the Investment Foundations Certificate as part of the programme.


What are the entry requirements for these roles?
Across all of our early talent programmes, we look for potential, so we don't expect you to be experts. In fact, we're happy to teach you all you need to know on the job. What we need from you is a can-do attitude, a willingness to get stuck in, and a flexible mindset.
You'll need to have completed A levels or equivalent to apply for any of our apprentice or trainee programmes, however there are no minimum UCAS point requirements for these.
You no longer need to have achieved a 2:1 degree classification to apply for our graduate programme as this programme is open to all.
However, to join our Technology and Data Insights Unit you'll need to be studying a STEM subject at university, plus some experience in coding languages and programming.

What skills does Schroders look for in applicants?
We look for three main skills from candidates: communication, teamwork, and motivation. We're a large company with lots of departments so you must be able to work well with people from different teams and different cultures.
For example, you might work in the marketing and communications team but you'll also need to work with the Finance and HR teams to make sure you have the relevant information.
We also look for other skills for more specialised roles. For example, we look for good analytical skills for our data and technology-based roles, and we assess this by asking more technical questions during the interview process.

What is one top tip to help an entry level applicant succeed at getting into Schroders?
During the application process do your research about us as a company, and understand the exact role that you are applying for! We want to know why you'd like to work for our company, and why the role stood out to you. It's also great when candidates do some wider reading about the investment management industry when applying - you could even talk about a relevant news article that you've read at your interview!

What opportunities are there for progression at Schroders?
Our apprentices and trainees are encouraged to build networks throughout their time with us and meet with as many people from across the organisation as possible. On completion of our apprenticeship or graduate programme, you'll secure a permanent position within the organisation and be supported to continue your career with us.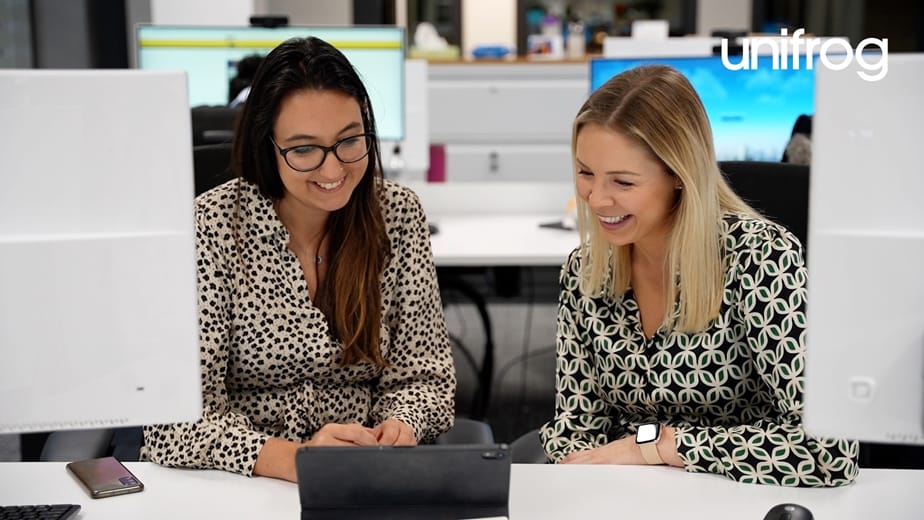 Good stuff from elsewhere
Unifrog Insights monthly email
Progression-related teaching materials, and insight from the Unifrog platform, emailed to you once a month.