Horizons Chapter 1: Aspirations
3rd June 2019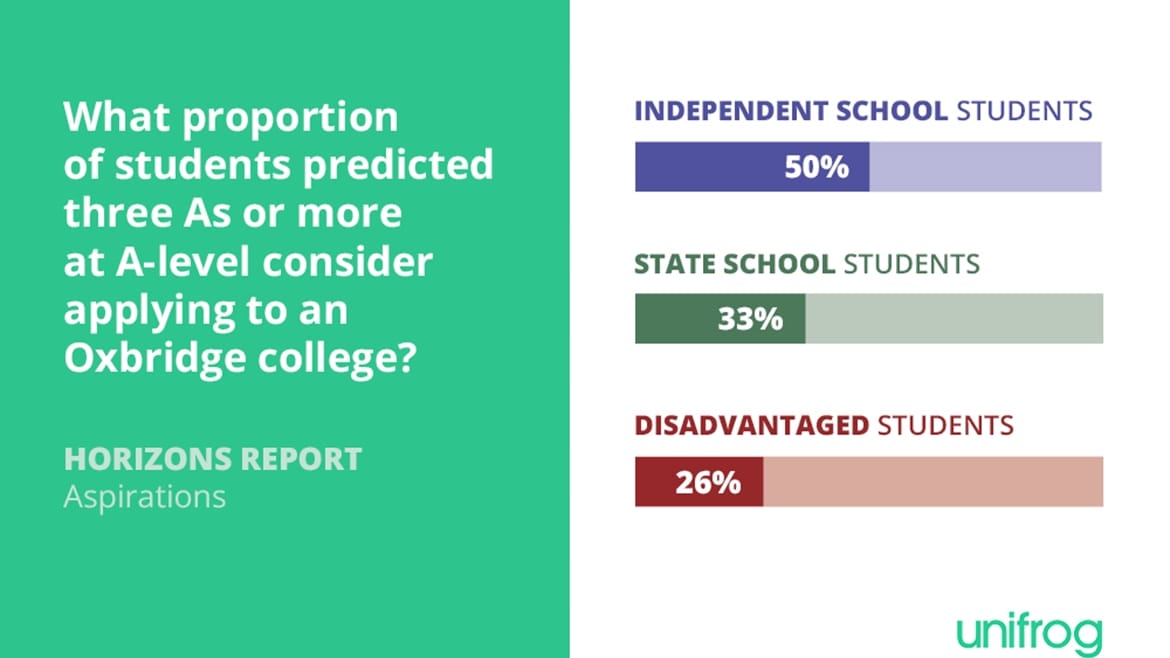 More young people are considering elite universities, but the gap in aspiration prevails between those with and without advantage
Unifrog's new Horizons report has thrown up a number of valuable insights into the motivations behind UK students' choices when considering their next steps in education. The first in a new series of reports analysing how students and teachers use Unifrog, it examines how the platform has been used by nearly 500,000 students in the UK over six cohorts, focusing on how students' research behaviour and preferences have changed over time.

Aspiration is on the up
One of the key findings of the report is that over the last three cohorts, aspiration has increased in terms of student's attitudes towards every education pathway. In 2019, 16% of the Year 13 cohort created an Oxbridge shortlist, compared to just 12% in 2017, and 59% included a Russell Group university in their shortlists – a 5% increase from 2017.

Students from low-participation areas are less likely to consider a prestigious university than their peers
Despite this overall increase in aspiration, however, there appears to be a material difference between independent school students and state school students when it comes to considering prestigious universities, and an even greater difference between independent school students and those from the lowest-participation areas (students from POLAR4 Q1 and Q2).
A 2018 study carried out by the Sutton Trust showed us that 60% of those from independent schools in higher education attend a Russell Group university, compared to just under a quarter of those from comprehensives and sixth form colleges. Unifrog's Horizons report provides us with some insight as to how far this gap is driven by students' application behaviour, and how far it is driven by their attainment.
Focusing solely on students predicted BBB+ at A level, it shows us that independent school students are 12 percentage points more likely to shortlist at least one Russell Group university than students from a state school, and 16 percentage points more likely to do this than disadvantaged students.
This gap is even more pronounced when looking at the highest achievers' attitudes towards Oxbridge. Just one in four disadvantaged students predicted AAA+ shortlisted Oxbridge universities, compared to one in two independent school students predicted the same level of attainment.
This suggests that disadvantaged students are less likely to consider a prestigious university than their peers despite having the requisite grades.

Disadvantaged students might feel that a prestigious university is not 'for them'
What lies at the root of this hesitancy is unclear, but one possibility is that students from state schools or low-participation areas feel that prestigious universities are not 'for them.'
When asked by the Guardian newspaper to explain why they didn't apply to Oxbridge, for instance, a number of high-attaining students from state schools expressed concerns about not fitting in. Some worried about not having much in common with the other students, the prospect of an echo-chamber in tutorials dominated by privately educated students, a conflict of ideals between them and the university, or a lack of diversity amongst staff. Others took issue with the more traditional content of the courses themselves, with one prospective English literature student put off by the prospect of 'reading a lot of literature by dead white men'.

What are universities doing to attract more students from disadvantaged backgrounds?
Elite universities have already faced backlash for perpetuating privilege, and many are aware that more needs to be done by them to attract smart students from more disadvantaged backgrounds.

Oxford, following in the footsteps of Cambridge and Warwick, has promised a 'sea-change' in admissions, with plans for a quarter of their students to come from disadvantaged backgrounds by 2023. In addition, any UK university that wants to charge £6,000 or more in fees must have a clear 'Access and Participation plan' outlining how they will attract more underrepresented students, give them support whilst at university, and help them to access the best opportunities when they leave. Finally, many universities (both elite and non-elite) now make 'contextual offers', meaning they will lower their entry requirements for disabled students, students from a low-participation area or low-performing school, or those who have been in care.
Although these are all positive steps in the right direction that should go some way towards improving the diversity of prestigious universities, their journey towards full inclusivity could be a long one requiring plenty of introspection. It's been suggested by some commentators that more drastic methods such as name-blind applications, school-blind applications and a target-driven quota system to admit more disadvantaged students each year would help to affect change more quickly. However, whether any of these steps will be enough to overcome the concerns expressed by some disadvantaged students about not fitting in is yet to be seen.

How can Unifrog help?
Unifrog's mission is to level the playing field when it comes to young people finding the best opportunities for them, and our whole platform is designed with this in mind.

Our UK Universities tool encourages students to include aspirational universities in their shortlists, our Special Opportunities tool makes it easy for students to find contextual offers, and our Oxbridge tool and Know-how guides aim to bust myths surrounding the UK's two most selective universities, and make Oxford's and Cambridge's challenging application processes as straightforward as possible.

Finally, our team endeavours to build a strong relationship with each of our partner schools so that we can gain a full understanding of the individual challenges they face, and work with them to overcome them.
To read more about this and other insights into student aspiration, including the difference in application behaviour between boys and girls, download the full Horizons report here.


Sources

Unifrog's Horizons Report 2019
Sutton Trust Access to Advantage Study 2018
Guardian: What stopped you applying to Oxbridge?
BBC News: Oxford University promises 25% of places to disadvantaged
The Independent: Cambridge University set to give poorer students who fail entry requirements chance to study
Warwick News: Warwick announces new £10million Warwick Scholars programme for up to 500 million young people each year
The Independent: Oxford University's measures to help disadvantaged students don't go nearly far enough